IoT technology for retail and pharma industry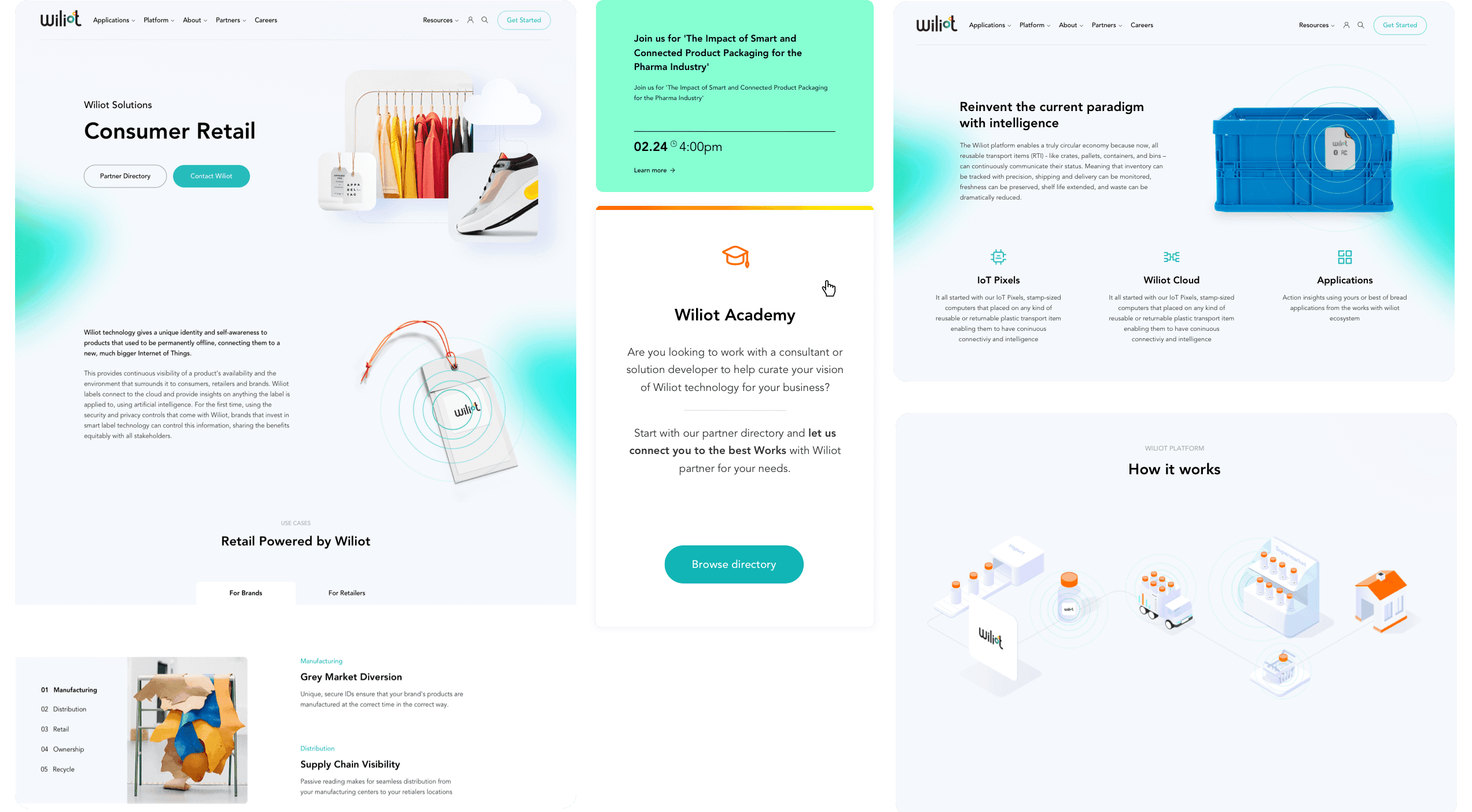 Location
San Diego, United States
PROBLEM
The team behind Wiliot needed to popularize their product and reach as many potential partners as possible. Effective education and efficient lead acquisition were the central concepts of the whole project. They needed a modern, engaging website that would utilize the most cutting-edge UX/UI design solutions, positioning the brand at the forefront of IoT innovation.
SOLUTION
We've thoroughly researched Wiliot's needs and drawn up a comprehensive website redesign plan, built with seamless user experience and engaging user interface as top priorities. We've introduced new contact forms to facilitate the acquisition of potential partners, simplified Wiliot's offer presentation, and created new, engaging animated illustrations to give the website a welcoming feel.
VALUE DELIVERED
We've injected new life into Wiliot's website with our unique interface solutions, engaging illustrations, and top-notch UX-oriented functionalities. Wiliot now enjoys a modern, inviting site, which made lead acquisition easier, its content more engaging, and its digital presence more prominent.
ABOUT WILIOT
The ioT revolution is here
The Internet-of-Things pioneer Wiliot wants to optimize the way products are tracked and stored worldwide. Their two main products are the revolutionary product tags Wiliot Pixel and an IoT connectivity network Wiliot Cloud. Together, these two systems can revolutionize supply chain management, inventory management, reusable transport monitoring, and many more, across a lot of diverse industries.
TIMELINE
Tailored to client's needs
We've employed a classic project timeline that has a proven track record, and which served us well during previous UX/UI-related projects. The ever-important UX design work regarding, among others, information architecture, prototyping, and user flows, takes precedence over the User Interface design phase (style, responsive UI, assets). Developers started their work about midway through the project, with our testers helping them along the way until the hand-off.
SCOPE OF WORK
A closer look at our work
Each of the four cornerstones of our work on Wiliot's new website was a unique challenge in itself.
HOW IT WORKS
Animate your story
One of the bigger visual challenges of the project was to picture the stages of the product's life cycle, and Wiliot's role in that cycle. Starting from manufacturing, distribution, and retail, to ownership, and recycling. At each of these stages, Wiliot Pixel collects information and transfers it to Wiliot Cloud. Sound complicated? That's why we've drawn and animated the entire process.
GETTING STARTED
Hello & welcome
Another important task was to present the company's content in an accessible way. Wiliot offers access to an extensive knowledge base, community, and events. Our solution utilized an easy-to-use platform with access to all management materials and products.
RESOURCES & EVENTS
Keeping tabs on events
Wiliot Resources is more than just webinars and events. It's a real media repository, with podcasts, reports, white papers, and articles. Users can find it all in News Listing with useful filters to help them find information. For this sub-page, we have created an event listing and a single event template (broken down by event, webinar, and webinar recording) with the option to subscribe or download the data after filling out the form.
PARTNERS
Telling the success stories
Any thriving company will benefit from showcasing its partners. For Wiliot, we designed their Partner Directory as a listing with company information. Our client is growing fast, so we made sure to include filters on this subpage to support browsing through even a very long list of partners.
VISUAL CONSISTENCY
When the website feels right
For Wiliot, we not only created a number of experience-enhancing features but also set a new visual direction for the company. We took advantage of digital colors, cohesive illustrations, and trendy blurs. We took care of a consistent look on both the Wiliot website and the branded Zendesk – Support Portal.
OTHER
Completing the makeover
Consistent application of top-notch UX/UI standards bears its fruits only when applied to the entirety of the digital product in question. For Wiliot, we dedicated extra care to making all of their pages and sub-pages look on-brand together. We've revamped pages such as Blog, Awards, Certifications, Use Cases, and many more.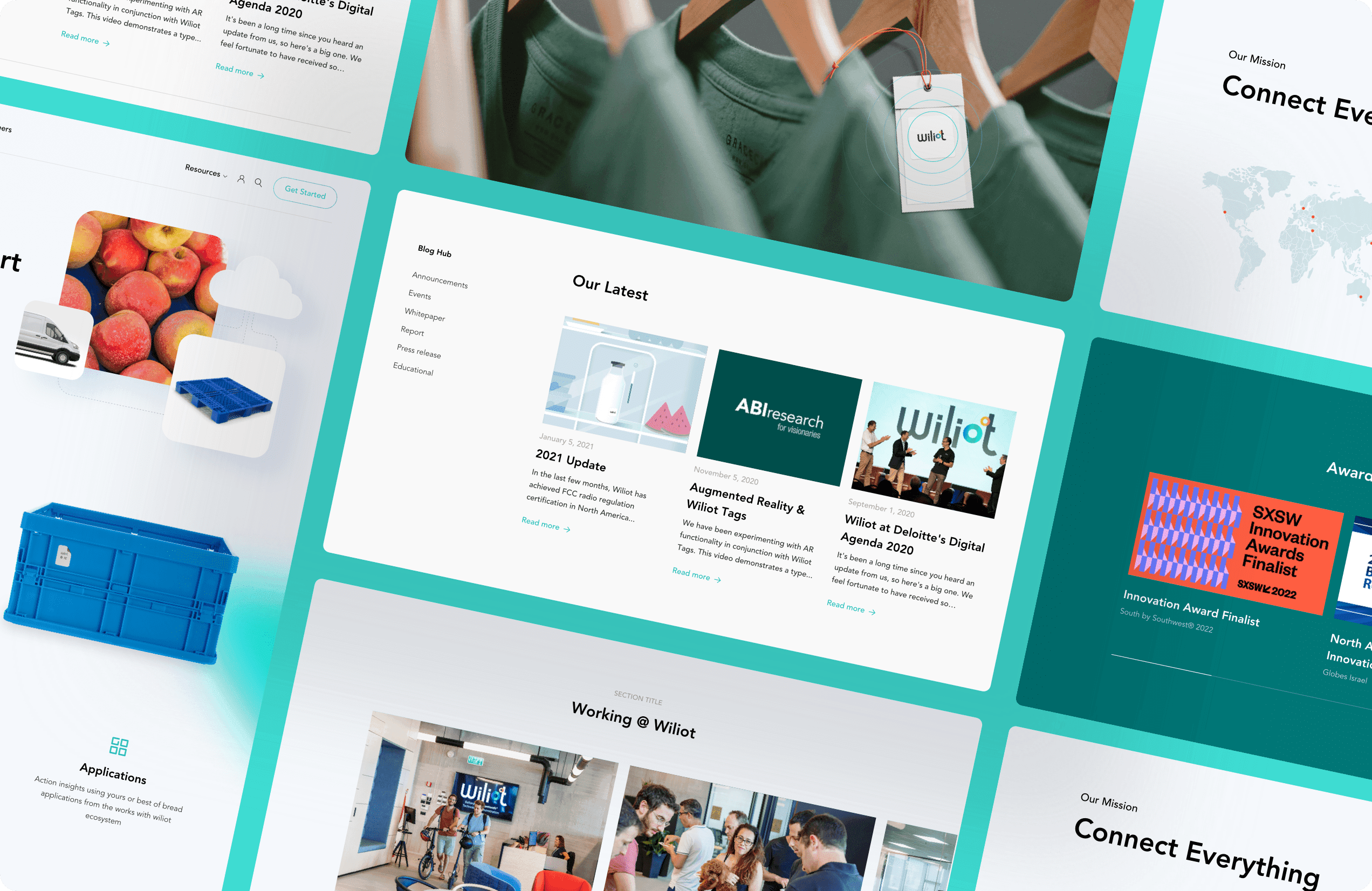 BRANDING
The most digital of colors
In this project, a big emphasis was put on creating modern and welcoming branding, which is why we've introduced bright, clean-looking illustrations, which touch upon the page's subject, making the website appear much more approachable.
Wiliot's digital and IoT aspirations were translated into the language of color with the use of cyans. Bright greens and blues, being truly the most "digital" of colors, give the website a technology-oriented, modern feel. The look of the website has been completed by the excellent sans serif typeface Avenir, which looks and reads great in Book, Medium, and Heavy font weights. 
TEAM
It was a pleasure
Our Wiliot project team is not only the coolest bunch of people, they are also excellent at delivering modern, responsive websites that look and run great!
ARE YOU READY?
Let's build your next digital product