Bold website for an conversational SaaS platform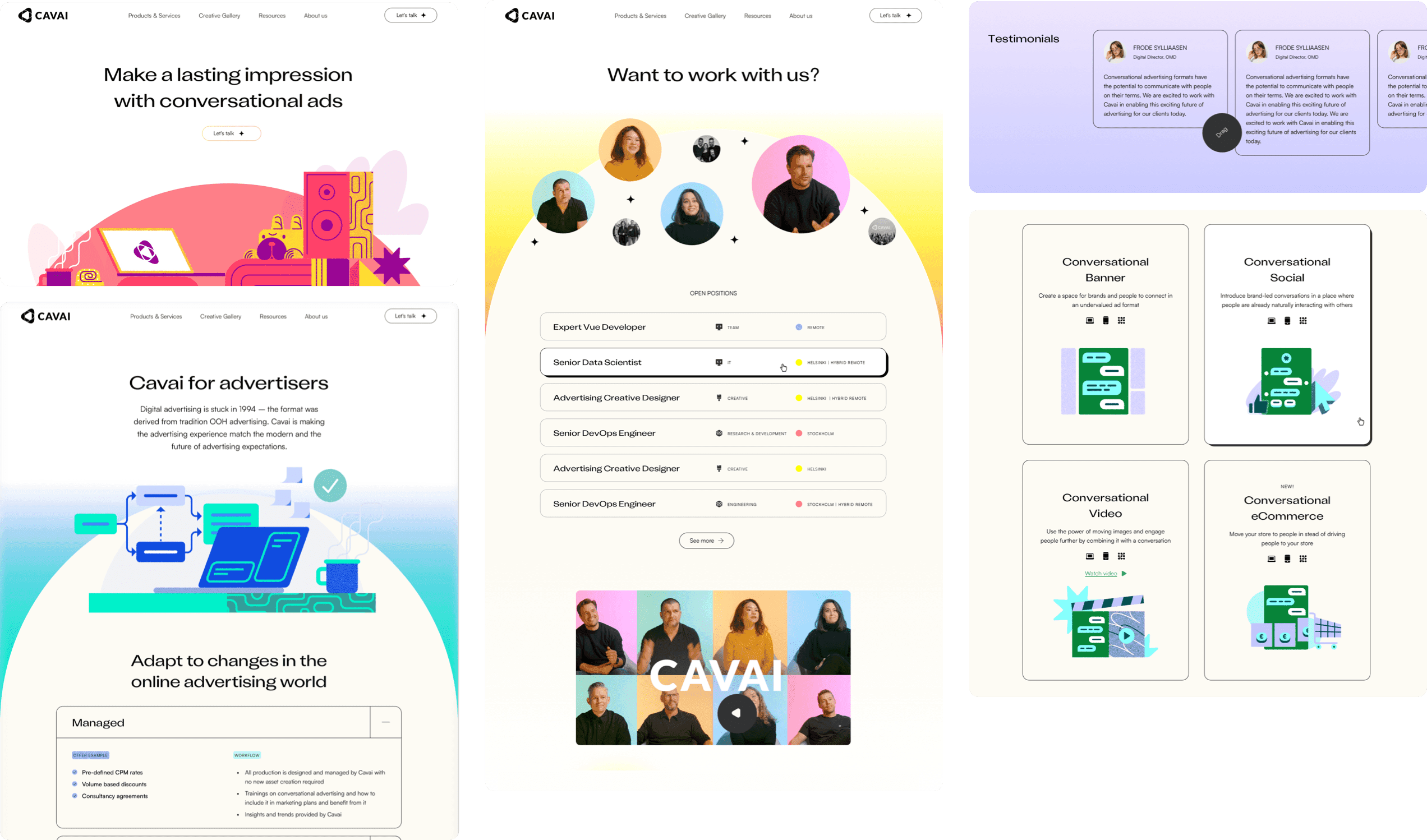 Industry
SaaS
Information Technology
Environment
Next.js
WordPress (headless)
PROBLEM
The Cavai team grasped worldwide attention in the conversational and interactive advertising industry, and once you get big, you want your website to set the newest trends. They wished to ditch their previous black and yellow branding and be more bold and visible.
SOLUTION
The ultimate goal of our work was to boost Cavai's brand and product visibility, and make its website and branding more unique and memorable. We went with the "fun, fast, and simple" approach, using the company's in-house-made, new brand book, which utilized several bright colors with gradients. We've also created unique but visually consistent content pages such as Case Studies, Blog, Creative Gallery, Cavai TV, giving the company many more ways to publish diversified content.
VALUE DELIVERED
Cavai's new responsive website is a web design wonder that combines flamboyant style and brave design choices with the latest developer tech, making this content-heavy website a lightweight pioneering project that Cavai's countless clients are sure to fall in love with.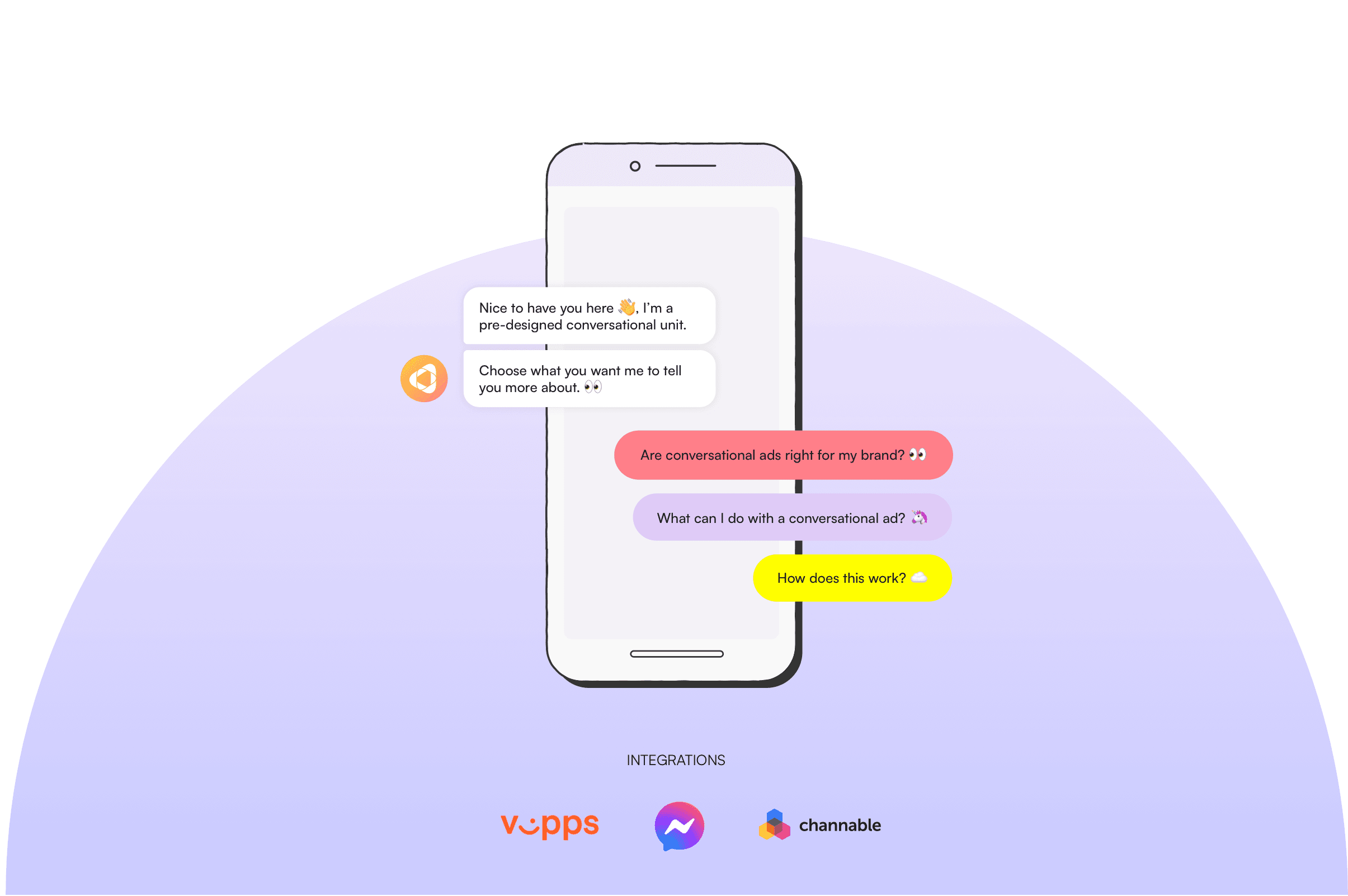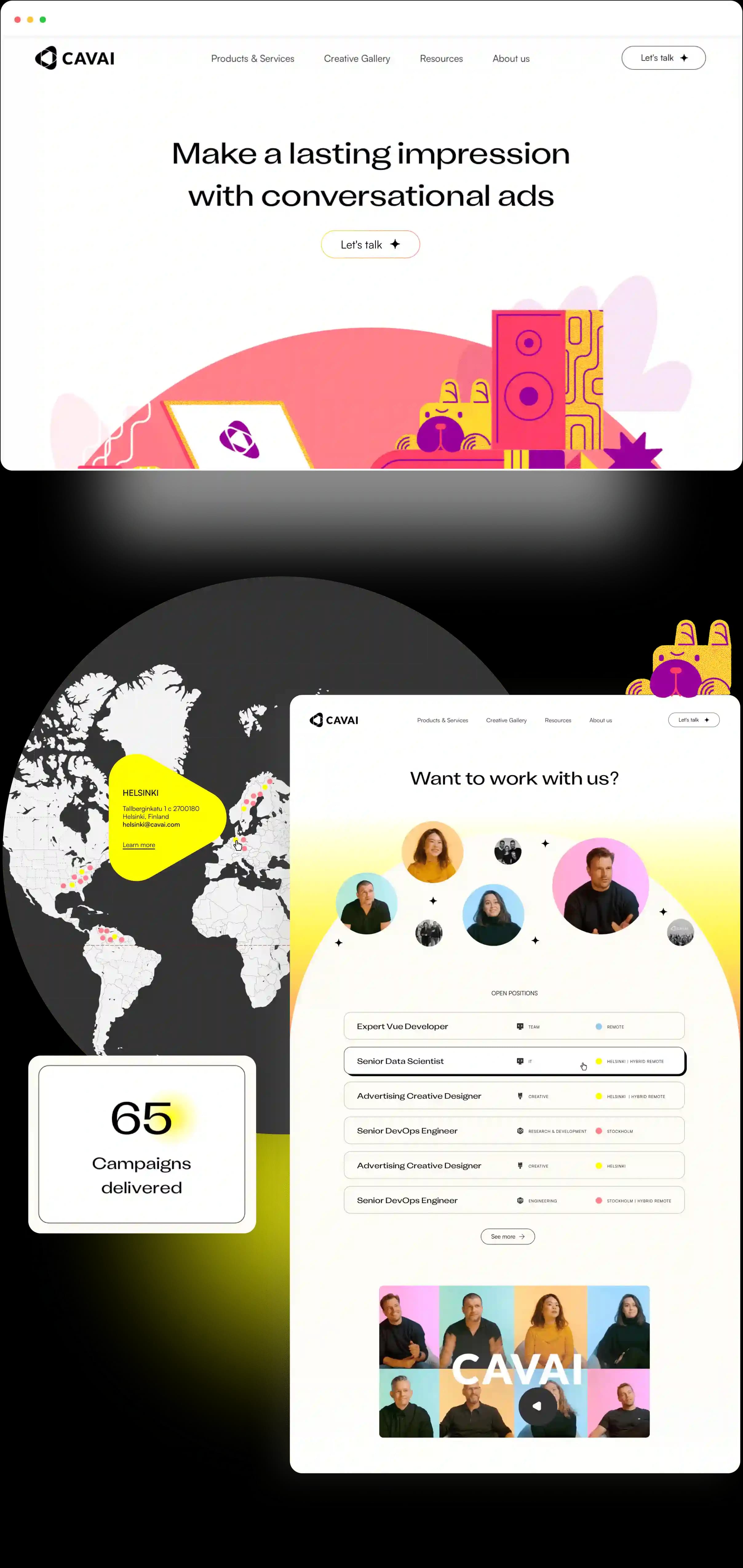 APPROACH
Going against the grain
With their previous website being somewhat bland and unremarkable, we set to work on Cavai's new website with the intention of increasing their brand and product awareness, distinguishing the company from its competitors. Our design followed their new brand book, which implemented many colors and gradients – a stark difference from other advertising agencies' sometimes overly sterile corporate tones. There's also new space for Cavai to publish its content, such as Products, Creative Gallery, Blog, or Case Study pages.
KEY POINTS
Starting the conversation
One of Cavai's unique aspects are their products: an advertising cloud full of features, and integrated, fit-all-sizes interactive marketing tools for all kinds of e-commerce businesses. This model required us to pay extra attention to our client's needs in order to design and develop custom-built, diversified subpages that will showcase their products well while being accessible and easy to understand.
SCOPE OF WORK
Custom, headless, beautiful
It was a comprehensive web design and development work within pre-established branding and visual identity guidelines, which we implemented for the first time. This includes a thorough audit, UX & UI design work, as well as extensive front-end development. The final result was a custom headless responsive website built on WordPress, fully accessible on both desktop and mobile devices.
PAGES
Content heaven
Cavai wanted their website to house all sorts of various content, including a company blog, Cavai TV video gallery, and a fully-functioning showcase of their work and case studies, where users would be able to try out and click through their interactive advertisements for themselves. All pages have been satisfyingly unified by well-researched UX and UI solutions, which unify the pages together and guarantee a consistent user experience.
MOBILE
Grasping the attention
It's on mobile devices that Cavai's new headless website truly shines, and it's thanks to the way the page's space was optimized to maximize accessibility and allow easy content viewing, regardless of screen size. It's also easier to spot all the design nuances on mobile, such as colorful gradients, unique illustrations, and stylish fonts.
BRANDING
More than vibrant
So, how many colors you want, fam?
Yes.
One thing is for sure – it's impossible to be indifferent to Cavai's branding. The designers decided to group an entire palette of bright shades and accompanying gradients with each of the website's subpages, giving the whole project a diversified and exciting look. There could be no boring fonts here either, as the distinctive Atilla and modernist Satoshi complete the one-of-a-kind look for Cavai's new website.
ARE YOU READY?
Let's build your next digital product