Elevating a FinTech brand to increase credibility and conversions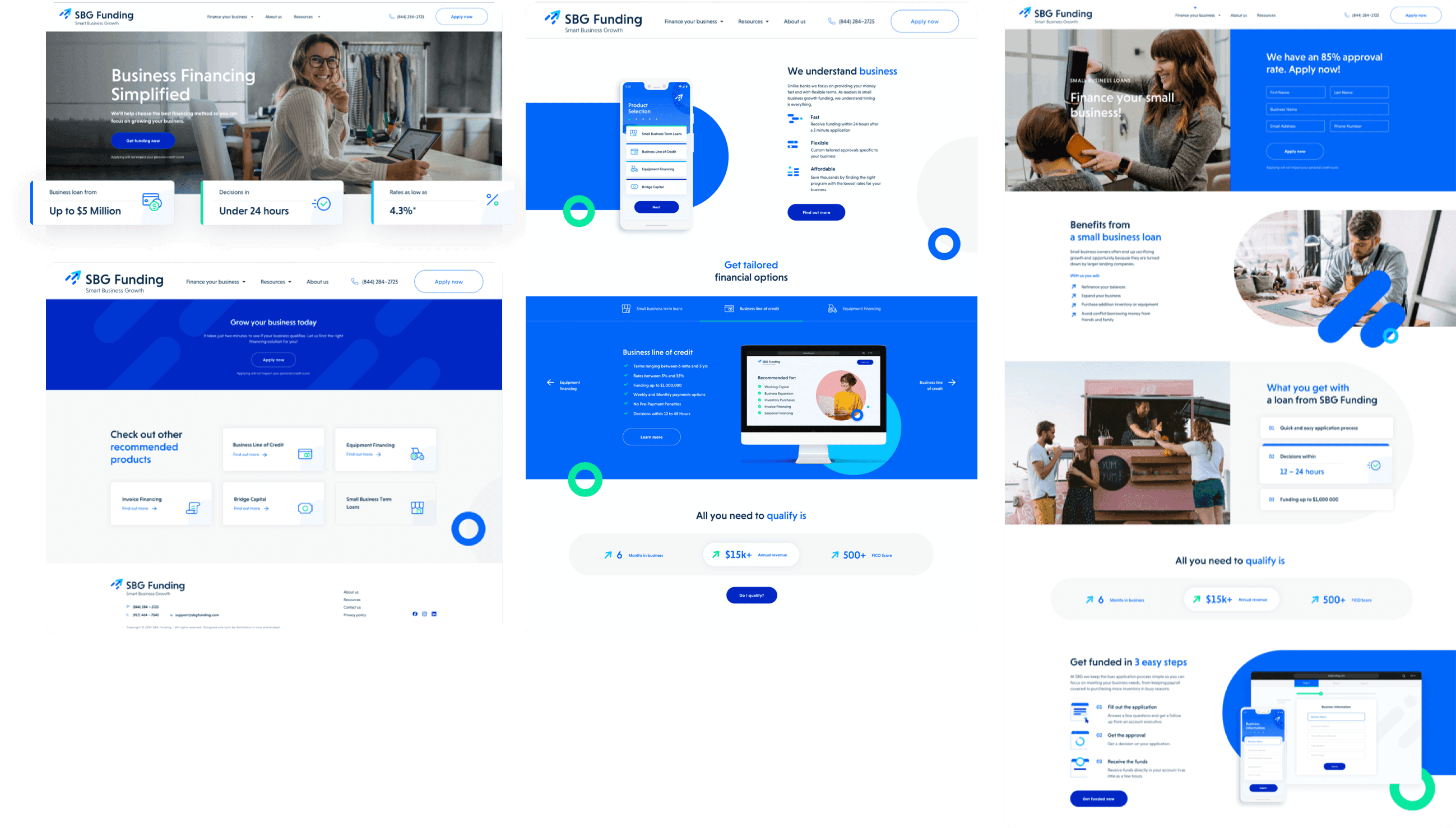 Client
Mission Capital LLC
PROBLEM
This small business funding provider wanted their website to have modern, engaging branding, and a playful, custom-built WordPress website to match. Getting rid of obstacles for potential leads in the application process was a number one priority.
SOLUTION
Our design was a real revolution in terms of accessibility and readability. We introduced a straightforward brand identity, and their new website now boasts new UX- and UI-optimized features on new pages, such as the company blog, offer details, refreshed about us page, and many more.
VALUE DELIVERED
The new website utilizes animations and illustrations to make the offer presentation more engaging. The principled design that boasts a professional, clean layout greatly facilitates information-gathering for the end-user. We used WordPress to give SBG Funding flexibility and control. Additional solutions like application forms and e-signatures were added to increase the site's functionality.
About the brand
Financing that isn't limited by stringent regulations
SBG Funding is a niche business financing firm with years of experience in the finance industry. Unlike typical lending institutions, SBG Funding allows SMEs to kickstart or grow their business quickly and safely, without any fine print.
Scope of work
Our process in practice
Our first objective was to ensure a smooth UX that eliminated obstacles for potential leads in the application process. This was then reflected across their website, using new brand design elements and layouts. Animations and illustrations were used to simplify their service offer, while a clean layout design helped organize information for the end user. The result? A modern platform that helped SBG Funding stand out from the competition.
This was all built in WordPress to give SBG Funding flexibility and control, and then dedicated solutions, such as application forms and e-signatures features, were added to give their site full functionality.
Visual identity
Logotype: A single image
The arrow-shaped logo was inspired by the previous one that represented a rocket (which is the international symbol of growth!). With that detail, we've managed to slim the logo, while ensuring consistency with the established brand image.
Visual identity
Colors & Typography
As for colors, we focused on tones that imbue trust and stability — features you want in a financial institution. Blue and green transmit those values, so this was a natural choice for us.
Sans serif typeface adds a breath of fresh air to the whole design. Sans serif fonts are modern and approachable, appropriate for an audience comprising mostly of small business owners.
Visual identity
Icons, icons everywhere!
We used a wide variety of visual elements, such as icons, pictograms, and small repetitive elements based on key visuals, to complete the branding. With those designed, the client then paired each element with visual explanations that were consistent with the new branding.
Visual design
Reflecting the company's mission
SBG Funding's mission is to fuel small business growth by providing fast, accessible, and safe funding. This had to be reflected on the website. And with 5 funding options available, this information needed to be simplified and adapted to the different ways users consume content. Now, website visitors can browse funding options either by industry or by financing type — whichever makes most sense to them.
Visual design
Adding Movement
Animations and interactive slides make the website more dynamic, engaging, and attention-grabbing. Plus, animations are great for simplifying information into digestible chunks for new users. For instance, animations were used to show the quick and easy application process.
Visual design
Introducing SBG Funding
Forget about stiff, old-fashioned financial institutions, FinTech brands have to embrace what's new. SBG Funding speaks the language of its clients: small, yet ambitious and innovative challengers. There's no room for financial mumbo jumbo on SBG's About Us page — only transparent, straightforward communication.
Visual design
Business funding in just 3 steps
SBG Funding prides itself on simple access to business financing. That's why we helped develop one of their core messages: business funding in just 3 steps. By communicating this across their website, new users find them to be supportive and easy to partner with from the get-go.
Visual design
Fostering thought leadership
A corporate blog is a crucial piece of the B2B marketing strategy: it can be used to attract and educate potential clients. That's why a dedicated blog section, where the client can share knowledge and connect with their audience, is one of the essential elements of the website.
Visual Design
Mobile illustration
The mobile illustrations section is a visual and animated representation of the application process. It's not how the application looks, rather an explanation that the process is simple and easy for the user. It uses similar design elements and assets as the application form.
Visual design
No-sweat application form
Designing a user-friendly, 5-step application form was key to minimize the bounce rate at this stage of the customer journey. After filling out the form, applicants can e-sign the application and upload necessary documents. It's as easy as 1-2-3… 4-5!
Visual design
Emails can be pretty, too!
The website isn't the only place to show off the new branding. We also prepared a series of illustrations that can be used in emails sent to clients. Who said that email communication has to be boring? Not us.
Technology
Making it all work
The whole site was based on WordPress, but the magic lies in a couple of plugins that allowed us to create a seamless experience. Gravity Forms with add-ons to create an advanced Application Form was integrated with WP-E-Signature for collecting electronic signatures. Trustpilot integration was used to build the brand's credibility and showcase reviews.
ARE YOU READY?
Let's build your next digital product