World-class interface design for a leading-edge finance app
Location
Frankfurt am Main, Germany
Client
Goethe University Frankfurt
PROBLEM
The team behind Seasn app came to us looking for help in accomplishing an ambitious goal: to help people make better financial decisions. A key aspect of their finance-management project was to give users a peace of mind, and motivate them to expand their knowledge about financing. The challenge at hand was to design a clean, welcoming, and stress-free design, that would incorporate industry-best UX and UI design practices.
SOLUTION
The client possessed a functional desktop app and backend programming knowledge. Our goal was to adapt these ideas into a mobile app, emphasizing optimal user experience. The design team concentrated on intuitive navigation, visual coherence, and immersive interactions. Their efforts aligned the design with Seasn's new brand identity, prioritizing user experience.
VALUE DELIVERED
The Seasn app features a sleek, contemporary user interface and refreshed, welcoming branding. Our method delivered an attractive UI, supported by comprehensive UX analysis, making financial management accessible to all users. The design enabled a smooth user experience, empowering users with financial expertise. Our design established a strong foundation for Seasn's distinct and innovative platform.
ABOUT SEASN
Planning for the future
Seasn, a mobile app designed for Goethe Universitat in Germany, sets out to empower users in making informed financial decisions. It aims to simplify financial management by providing long-term planning options and encouraging expanding financial knowledge. The client had a solid concept and programming background but required assistance with mobile application development and branding.
TIMELINE
All planned out
With the obligatory pre-sale concept done, the Seasn project commenced with an extended period of UX work: app map, and wireframing. Designers responsible for branding also started early, and with them finishing that stage, they have shifted their attention to the UI design phase. The collaboration involved converting the client's desktop application idea into a user-friendly mobile experience. External developers were engaged to implement the finalized designs.
BRANDING & LOGO
Refreshingly clean design
We crafted a new, refreshing brand identity for Seasn, aligning it with the aesthetics found at the junction of educational and financial industries. The logo utilizes 4 cheerful but calm shades, making for a youthful, energetic vibe. Simple shapes that constitute the new logo carry diverse meanings and symbolism.
KEY VISUAL
Consistency first
The key visual represents the new branding's coherence and universality. All the branding elements, from the logo, typography, shapes, and backgrounds were chosen to go well together and look great on any kind of device or platform.
SCOPE OF WORK
Comprehensive design process
Our scope of work was mainly UX and UI design services for the Seasn app, but the process encompassed much more than just that.
TEAM
We love tasks like this
Our multidisciplinary team comprised talented UX/UI designers, experienced developers, and process-oriented project managers. Each team member contributed their expertise to deliver a seamless and engaging final product.
WORKSHOPS
Start with an idea
Through collaborative workshops, we gained insights into the client's vision and project requirements. These remote video call sessions allowed us to align our design strategy with the client's goals and create a shared understanding of the app's functionality and user flow.
APP MAP
Navigating the financial landscape
We meticulously mapped out the Seasn app's structure, ensuring logical and intuitive navigation.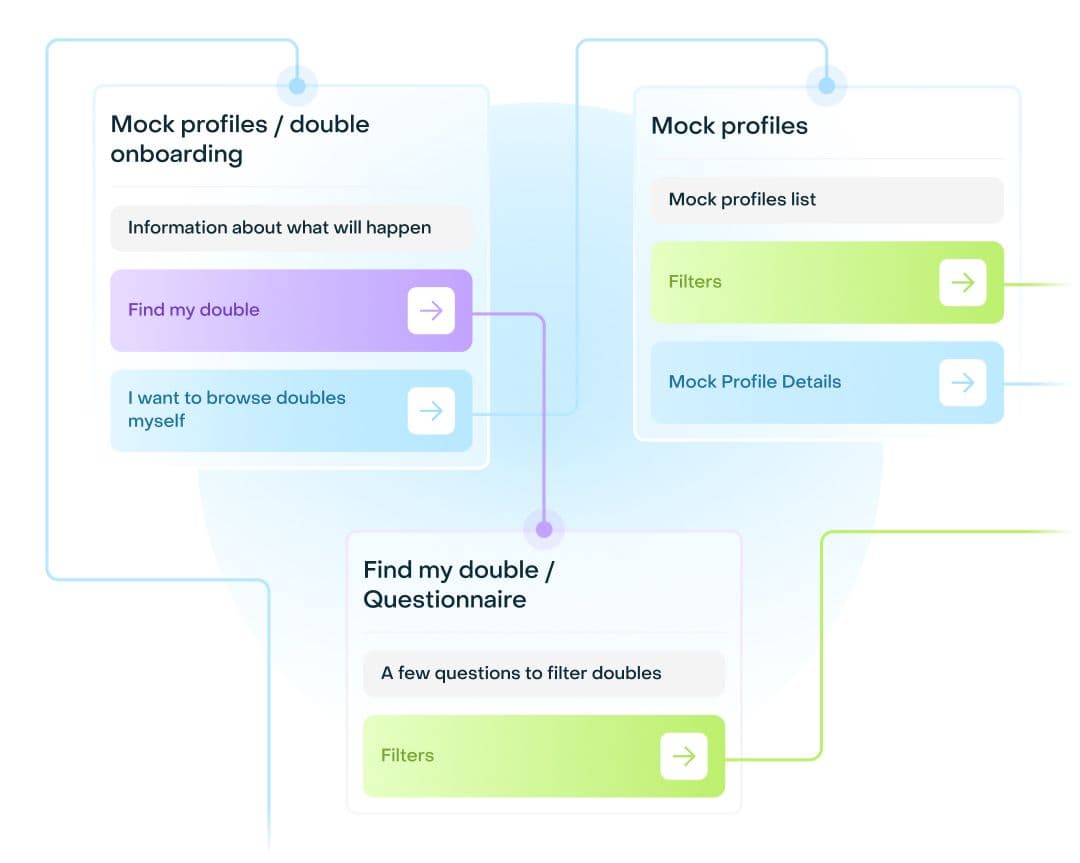 WIREFRAMING
See the changes
Wireframes were created to outline the layout and functionality of each screen, facilitating a clear visual representation of the user journey.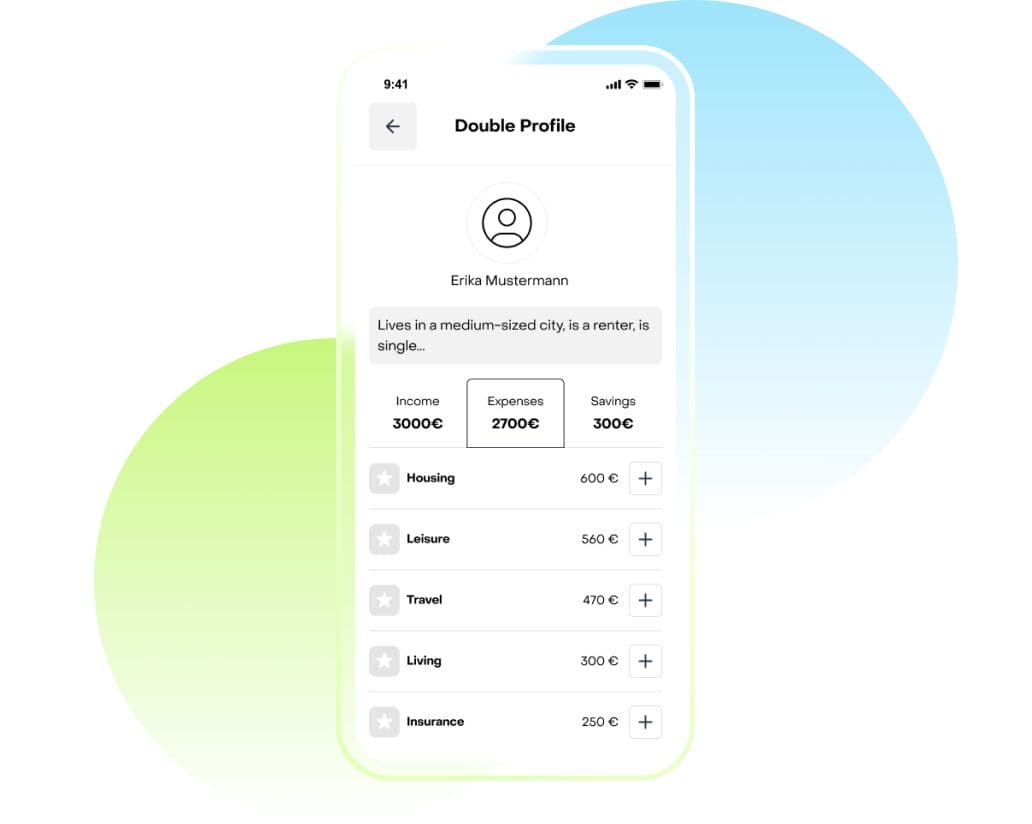 PROTOTYPE
Trying it out
To validate the design and test user interactions, we developed a fully interactive prototype. This enabled the client to gather feedback and refine the user experience, ensuring the app's usability and effectiveness.
COLORS
Carrying a meaning
The delicate, pastel color palette for Seasn was carefully chosen to embody 4 key sets values Seasn wishes to communicate: nature and safety, warmth and change, wisdom and independence, emotional balance and friendship.
TODAY DASHBOARD
It's the best day to start
The Today Dashboard presents users with an overview of their current financial situation, categorized into income, expenses, and savings. Color coding enhances visual clarity, and each bubble represents a specific product. Users can easily improve their financial position by adjusting income, expenses, and savings.
FUTURE DASHBOARD
Financing tomorrow
The Future Dashboard offers a glimpse into users' financial scenarios at retirement age. It incorporates "what if" simulations, allowing users to explore the impact of variables such as inflation or life events. Additional income products can be added and tracked, providing insights into their financial trajectory.
DOUBLE
Your financial twin
Seasn introduces the concept of finding a financial twin – someone with similar circumstances and goals. Users can simulate their future by adding products associated with their twin, gaining valuable insights into potential financial outcomes.
WHAT IFS
Prepare for unexpected
The What Ifs feature enables users to add events that may impact their future financial situation. Scenarios like inflation can be simulated and displayed on the Future Dashboard, empowering users with a comprehensive understanding of their financial prospects.
OTHER
It's a full package
Apart from the core functionalities, the app encompasses additional features like the lifestyle tab, login and registration, brokerage performance, product simulation, account management, and settings. These additional functions enhance the app's usability and provide a comprehensive set of financial tools.


UI COMPONENTS
Harmony of shapes and colors
Our design approach focused on creating consistent and visually appealing UI components.
 Buttons, sliders, ticks, tabs, and boxes – all these elements have deliberate and thought-through design decisions behind them.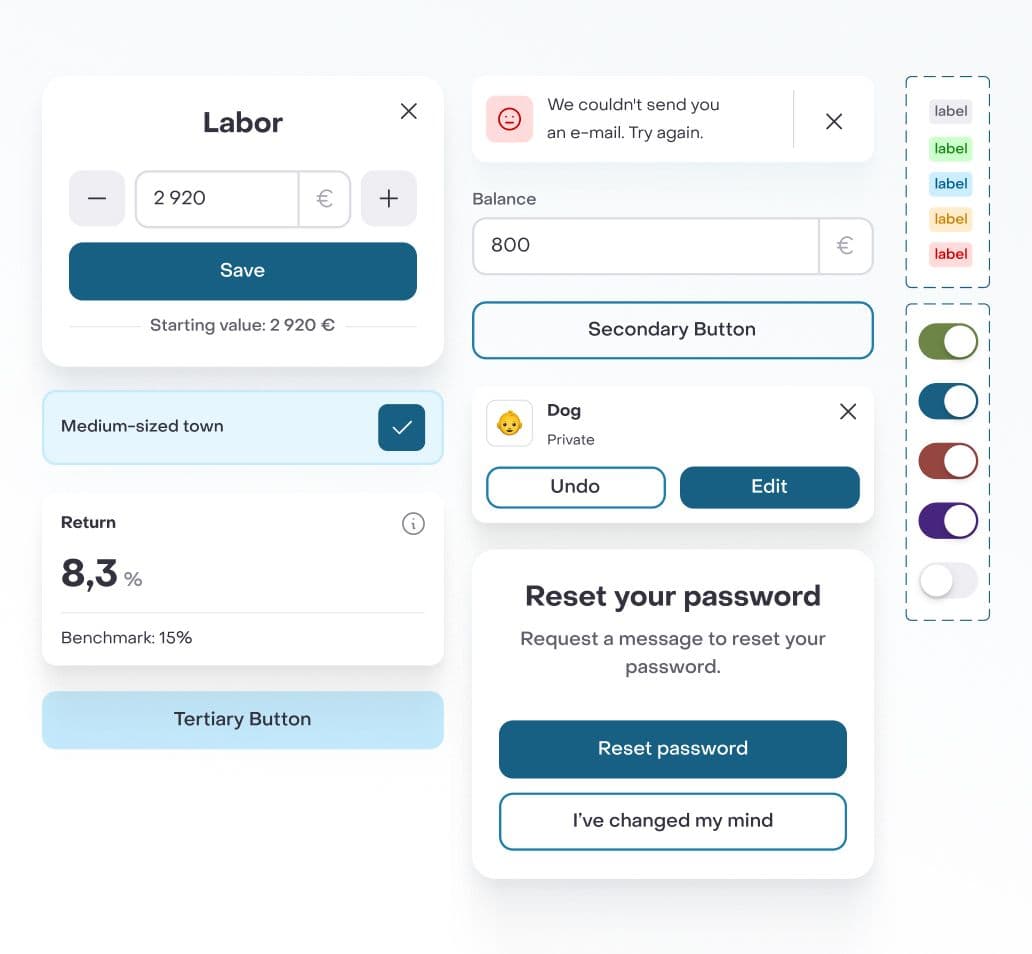 TYPOGRAPHY
Sleek & modern
Typography choices were made to ensure legibility and convey a professional, modern aesthetic that aligns with the app's educational and financial focus. Our choice was Object Sans, a versatile, contemporary sans serif typeface that boasts great legibility. The final app project utilizes 3 different font weights.
UI PROTOTYPES
Invaluable for product testing
We developed UI prototypes that allowed the client to conduct real-user testing. This invaluable feedback guided refinements and improvements, ensuring the app's usability and user satisfaction.
EXTERNAL DEVS
Handing it over
Seasn benefited from the expertise of external developers who skillfully implemented the final designs. This collaborative effort between our design agency and the development team resulted in a seamless and robust app experience.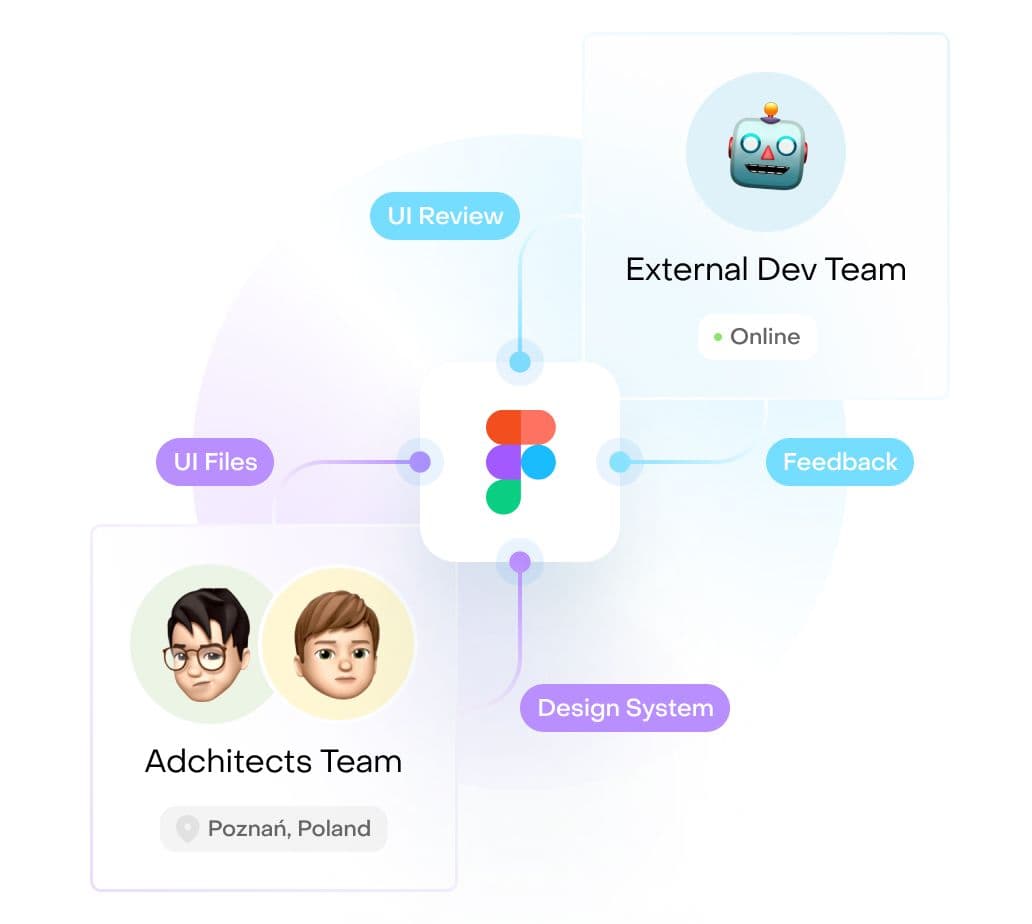 UX WRITING
Multi-lingual UX
Effective UX writing was an integral part of the Seasn app, as we had to make sure everything worked well both in German and English. This process involved making sure all text fields were appearing in their entirety, especially in case of long, German compound words.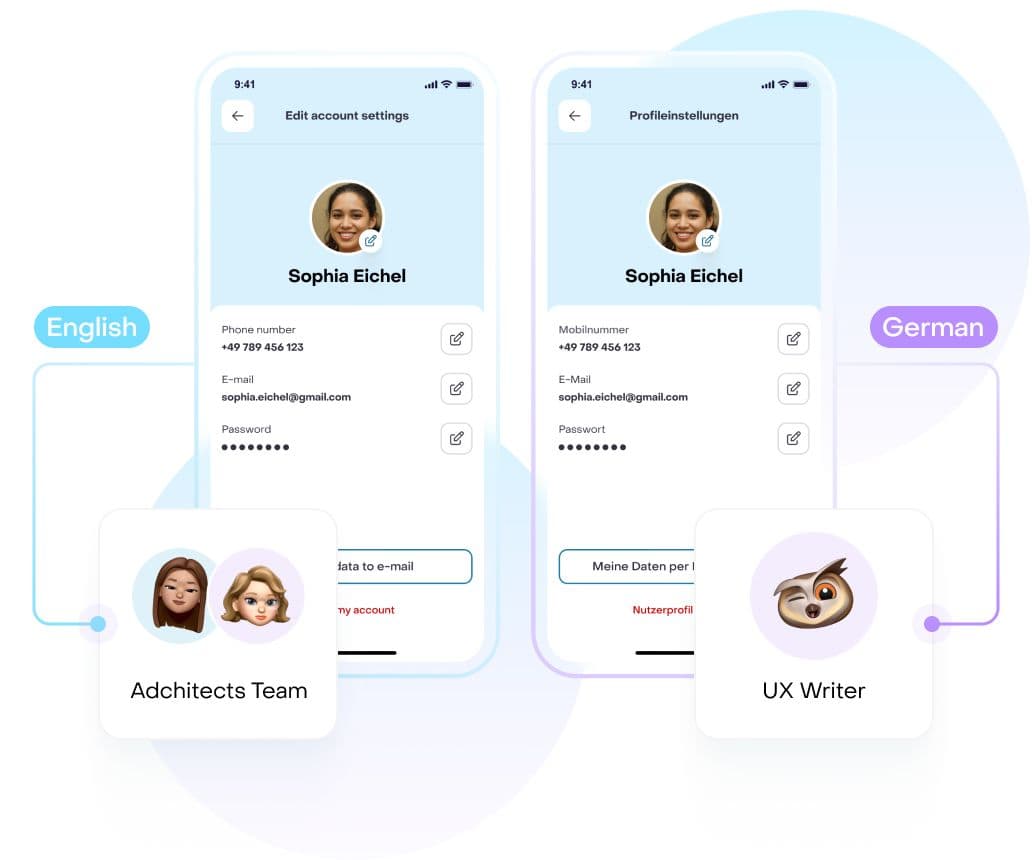 ARE YOU READY?
Let's build your next digital product