Enterprise website for a cybersecurity market leader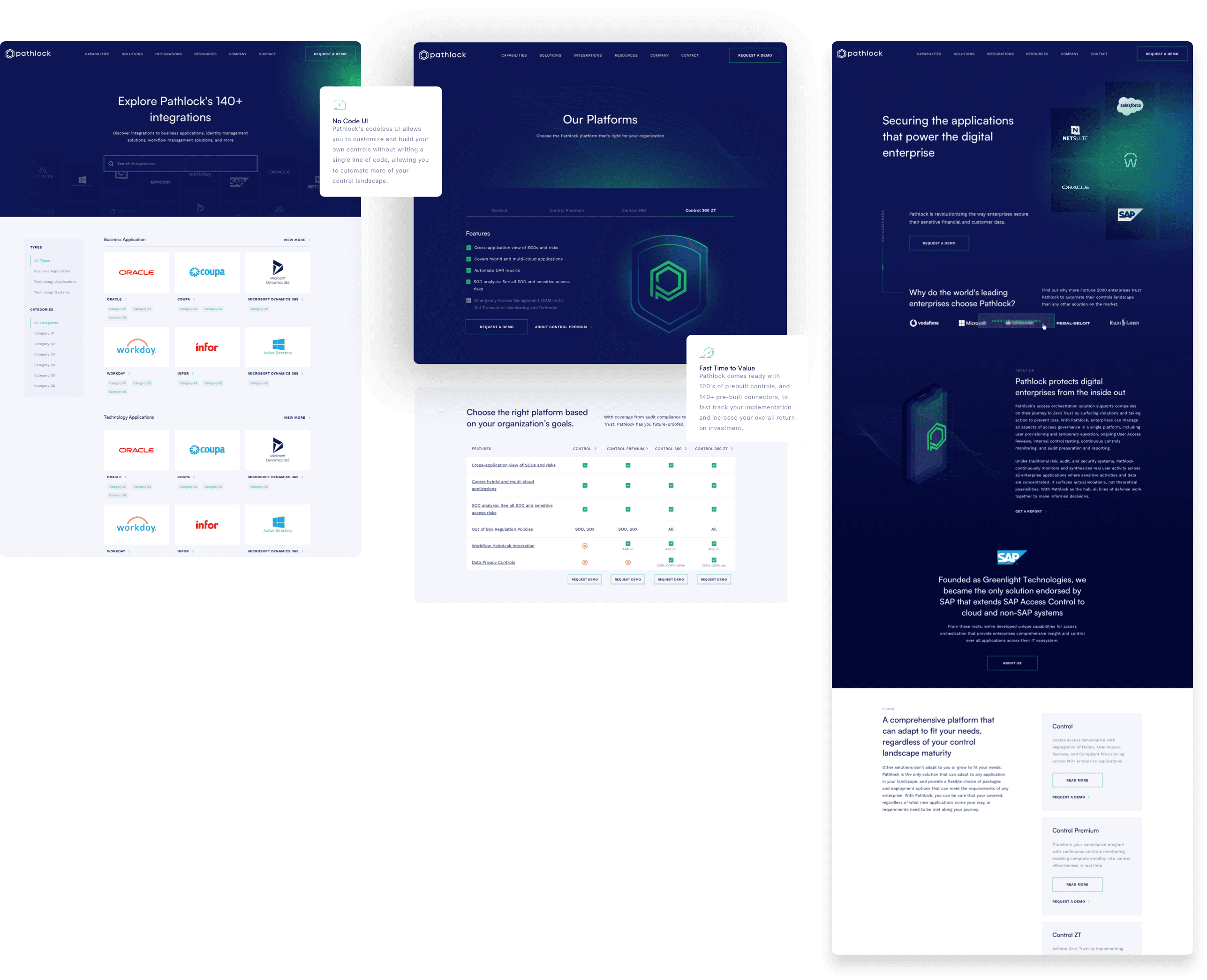 Location
California, United States
PROBLEM
Pathlock's rapid growth in cybersecurity made having a new website a necessity. The company wanted a new digital presence that would communicate professionalism, highlight its partnerships, and tell more about its industry-leading approach.
SOLUTION
We've created an exemplary corporate website, wrapped in mature, deep blue tones with green contrasts for a digital-like look. There's a lot of new space for content. We implemented subtle animations, an enhanced mega menu, and a dedicated integrations/partners page.
VALUE DELIVERED
Pathlock's new website is lightweight and easy-to-read, while still carrying a lot of content and data, such as new Integrations or Plan Comparison pages. Intuitive Mega Menu, tasteful animations, and modern UX/UI solutions are the icing on the cake.
A straightforward and minimalist approach goes a long way in web design. Pathlock's new website is a living example of this, thanks to the modern and professional look we designed and developed. Here's how we did it.
ABOUT PATHLOCK
En-route to automated compliance
Pathlock focuses on providing data safety measures to businesses around the globe by offering access orchestration, application security, and control automation through high-end IT solutions. One may also be familiar with this field under the name cybersecurity. Trusted by numerous Fortune 500 companies, Pathlock was a tremendous partner to work with.
APPROACH
Security first
Pathlock is a large player in the cybersecurity industry, and it was clear from the start, that we will be aiming at a responsive website that communicates the company's professional and diligent approach. It's easy to overcompensate when expectations are high, so we made a conscious choice to go against the grain and rolled out a minimalist, simple, and lightweight website – and as it often turns out – simple solutions are the best solutions.
HOMEPAGE
Sending a clear message
Calm straightforwardness dominates the website's homepage, as the CTA and company claims introduce the visitors to the company and its mission. There are no frills and needless decorations to take away from the message, which is explained as the user scrolls down and explores the website further.
KEY POINTS
Movement
It's not easy to describe what Pathlock is doing in everyday terms, so the homepage can appear quite packed with information. To balance it out, and hold the user's attention for longer, we implemented discreet animations and movement, making a reference to the way electricity follows the wire.
MENUS
More than meets the eye
Pathlock website may appear as if it's a one-pager at first, but there's a lot of content to be discovered, all thanks to our implementation of the Mega Menu. It definitely lives up to its name, offering a good lookout for many of the website's subpages. Extra space was reserved for all the partnering company logos, which can be viewed in the Integrations and Case Studies tabs.
COMPARISONS
Finding the perfect plan
As is the case with many IT-based service providers, Pathlock's website also has a responsive and practical plan comparison page. This super-readable subpage received a plain white background and minimal secondary elements not to distract the user who is about to make a decision.
INTEGRATIONS
It just works
Starting with a simple search bar proved to hit the spot when it comes to looking up many of Pathlock's integrations. The company worked hard to be up to par with and then set new cybersecurity market standards. The 140+ strong searchable list serves as a homage to their efforts.
MOBILE
Minimal & accessible
The website offers an even clearer and more minimalist experience on mobile devices thanks to flat, white backgrounds and only a handful of colorful accents. Clean-cut communication suits the new website's mission to present Pathlock as a professional enterprise worthy of trust.
BRANDING
Deep blue curiosity
Work Sans and Satoshi, the two sans-serif fonts used in this project may appear identical to an untrained eye, but their slight differences complete the overall modern and quality-first look for Pathlock. The typography carries a little bit of weight to it, which is especially useful at drawing the user's attention to slogans and headers. Just 3 colors are enough to create an impressive website design, and Pathlock's deep blue, energetic green and delicate white with a slight blue tint work great in unison.
5.0
Their responsiveness, communication, and delivery were excellent. This was the most well-managed project I've been a part of.
Michael Puterbaugh
CMO – Pathlock
ARE YOU READY?
Let's build your next digital product