Creative WordPress development for algorithmic crypto pros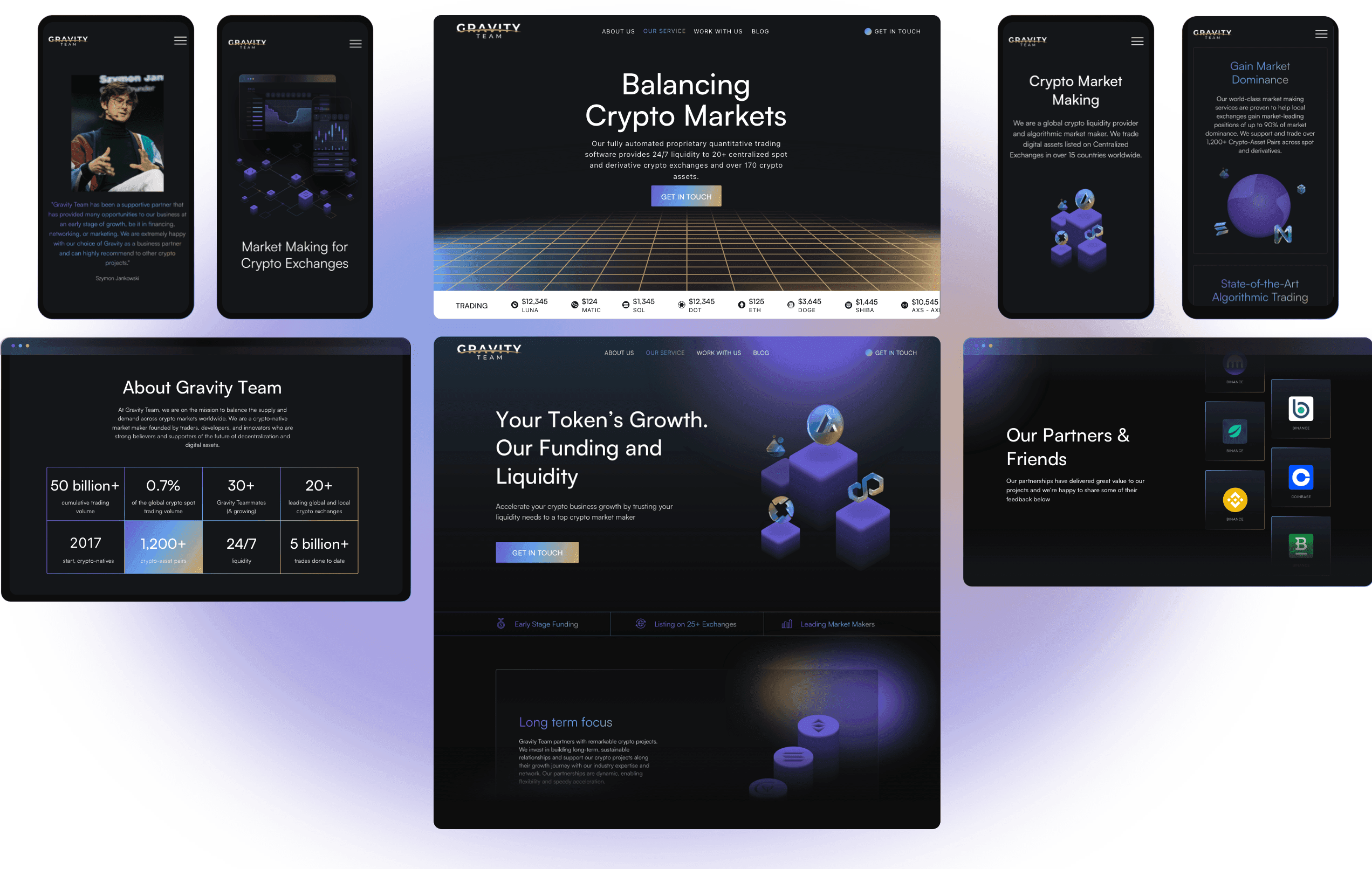 PROBLEM
With just a logo and a one-pager, Gravity Team approached us, seeking to position their company as a new force in the algorithmic crypto industry. They wanted their website to serve as a professional business card and an indication of their crypto-oriented entrepreneurship, with the goal of inspiring trustfulness and transparency.
SOLUTION
We've built a fast and engaging WordPress-based headless website with Next.js. We suggested a visual direction in line with the established look associated with the crypto industry. We've decorated the cool black theme with some illustrations and animations, which add vibrance and communicate how dynamic this industry is.
VALUE DELIVERED
Gravity Team now enjoys a representative, fast-loading WordPress-based website, which details their offer on a number of subpages with dedicated visual assets, charts, and graphics. We've made operating the website much easier by limiting the requirement for manual content management.
ABOUT GRAVITY TEAM
The crypto natives
Gravity Team is a quantitative cryptocurrency trading company, which entered the crypto scene in 2017, providing trading opportunities, exchanges as well as liquidity. With the rapid growth of blockchain-based technology, Gravity Team started to look for improving their internet presence, wishing to tell the world about their innovative business idea.
TIMELINE
Our way forward
We sat down to create a very no-nonsense plan, which included UX and UI design work, making sure there was space for cooperation between designers and developers coordinating their tasks to save time. Naturally, before Gravity Team could start using their website, we ran several quality-oriented tests to ensure the launch would go smoothly.
TEAM
The superheroes behind it all
Modern, responsive websites come out best (and on time) when there's cooperation. And one couldn't dream of a team more competent and cooperative than these fine minds below.
HOMEPAGE
Say hello to innovation
Dark tones, a sliding bar with current exchange rates, and a gridded, virtual floor, making a connection to a stock exchange's trading floor with its animated "ups and downs" – Gravity Team's homepage sure is unique. Given the fact that it's a crypto company, our aim was to create a very on-brand welcoming screen, mixing dark colors, which are typical for this industry, with modern gradients and animations.
CRYPTO PROJECTS
Growth experience
The first of two services offered by Gravity Team to cryptocurrency owners are their growth-oriented market-making opportunities. We went with a 3D-like, animated Hero, an animated chart depicting crypto startup lifecycle, and a highlighted partner showcase.
CRYPTO EXCHANGES
Liquid, virtual gold
Another, entirely different service page. This time, it's about liquidity for cryptocurrency exchanges. Apart from service descriptions, this page received another great-looking hero animation, as well as a partner testimonials section.
ABOUT US & SERVICES PAGES
More pages, more fun
The Services page is a hub-type of subpage, which showcase Gravity Team's offer and presents their services on one, easy-to-use page. It was also a great idea in terms of Search Engine Optimization (SEO), the aim of which was to elevate the company's discoverability. Visible on the right is the About page, on which the most noticeable thing is the frequent use of the on-brand gradients and blurs, which are a part of the brand identity we designed.
MOBILE
Crypto markets at your fingertips
Gravity Team's clean and straight-to-the-point website looks great on mobile devices too. Naturally, the site is built to be as responsive and fast to navigate as possible. We put extra care into readability and accessibility too. All the buttons, charts, and animations are easily readable, well-positioned, and unobtrusive.
BRANDING
The crypto theme
The generally dark ambiance of the site is nicely balanced thanks to blue and gold gradients and blurs. These are a feature of many modern and innovative websites, which is very on-brand with the general perception of what can be called the "crypto theme". It's a real heaven for fans of dark mode, by the way!
Nicely befitting a website about cryptocurrency markets, the font used here is Satoshi, a perfectly straightforward, nearly-geometrical sans serif typeface that fits well with just about any modern and innovative subject.
ARE YOU READY?
Let's build your next digital product