Website design concept for an e-commerce solutions provider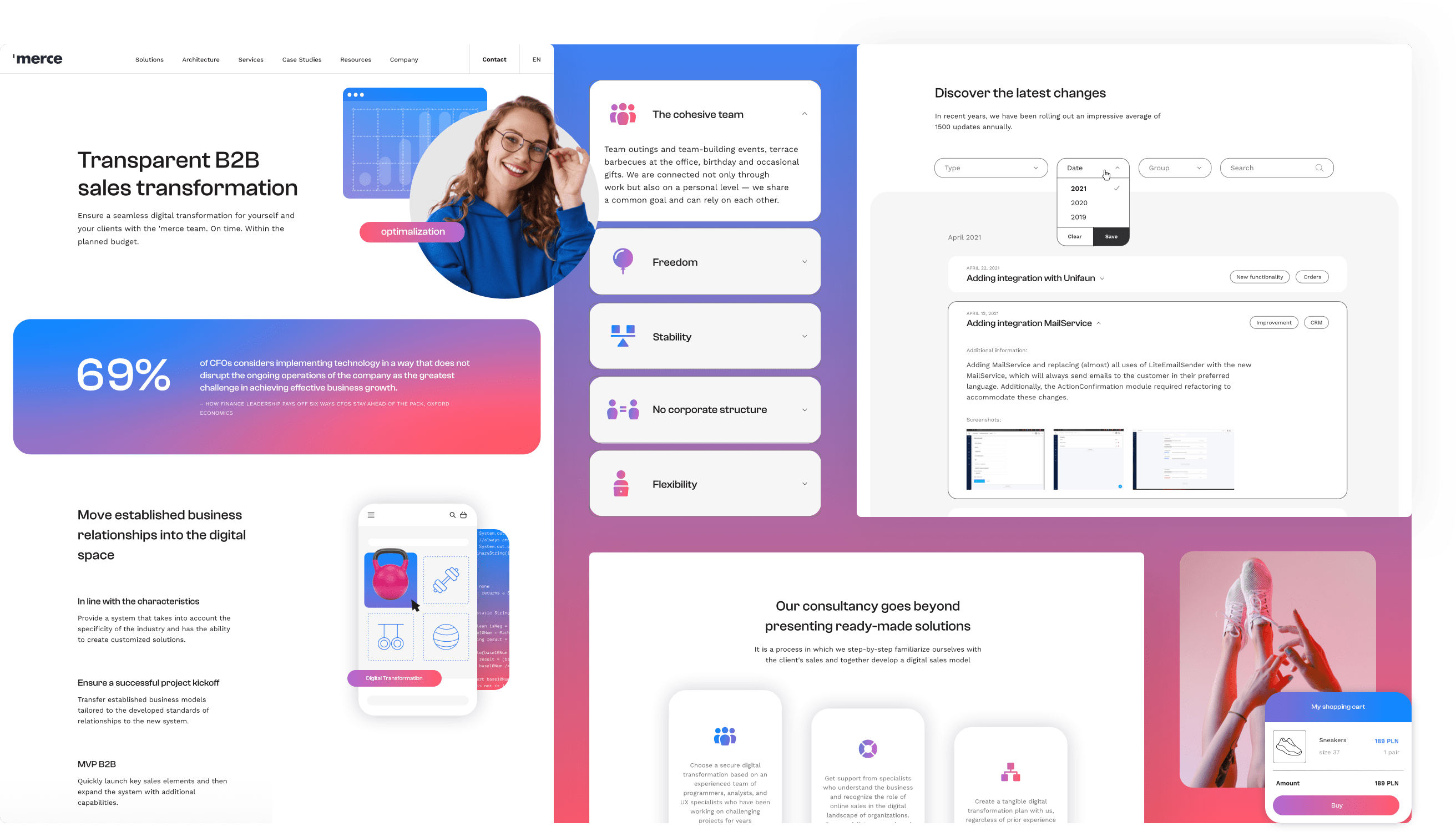 PROBLEM
'merce had many years of experience in the market. Nevertheless, they found themselves facing increasing competition in the fast-paced e-commerce landscape. They sought to create an innovative, visually captivating website design that would reflect how cutting-edge their enterprise platform was, as well as set them apart from the competition.
SOLUTION
Adchitects leveraged the latest design trends to create a contemporary and futuristic look for 'merce's website. Bold typography, sleek visuals, and a vibrant color palette helped portray the company as forward-thinking and technologically advanced.
VALUE DELIVERED
The collaboration between 'merce and the Adchitects design team led to the creation of an exceptional website design that reflected the company's vision and capabilities. The futuristic aesthetics, coupled with the user-friendly interface, ensured a memorable and engaging user experience.
ABOUT 'MERCE
Innovative e-commerce
'merce sought to enhance their website's look and the user experience it provided. With that in mind, our team provided them with a new website design concept. It aimed to make the 'merce brand identity more memorable and unique. Though the design was not ultimately published, it remains a testament to 'merce's dedication to redefining the digital commerce landscape.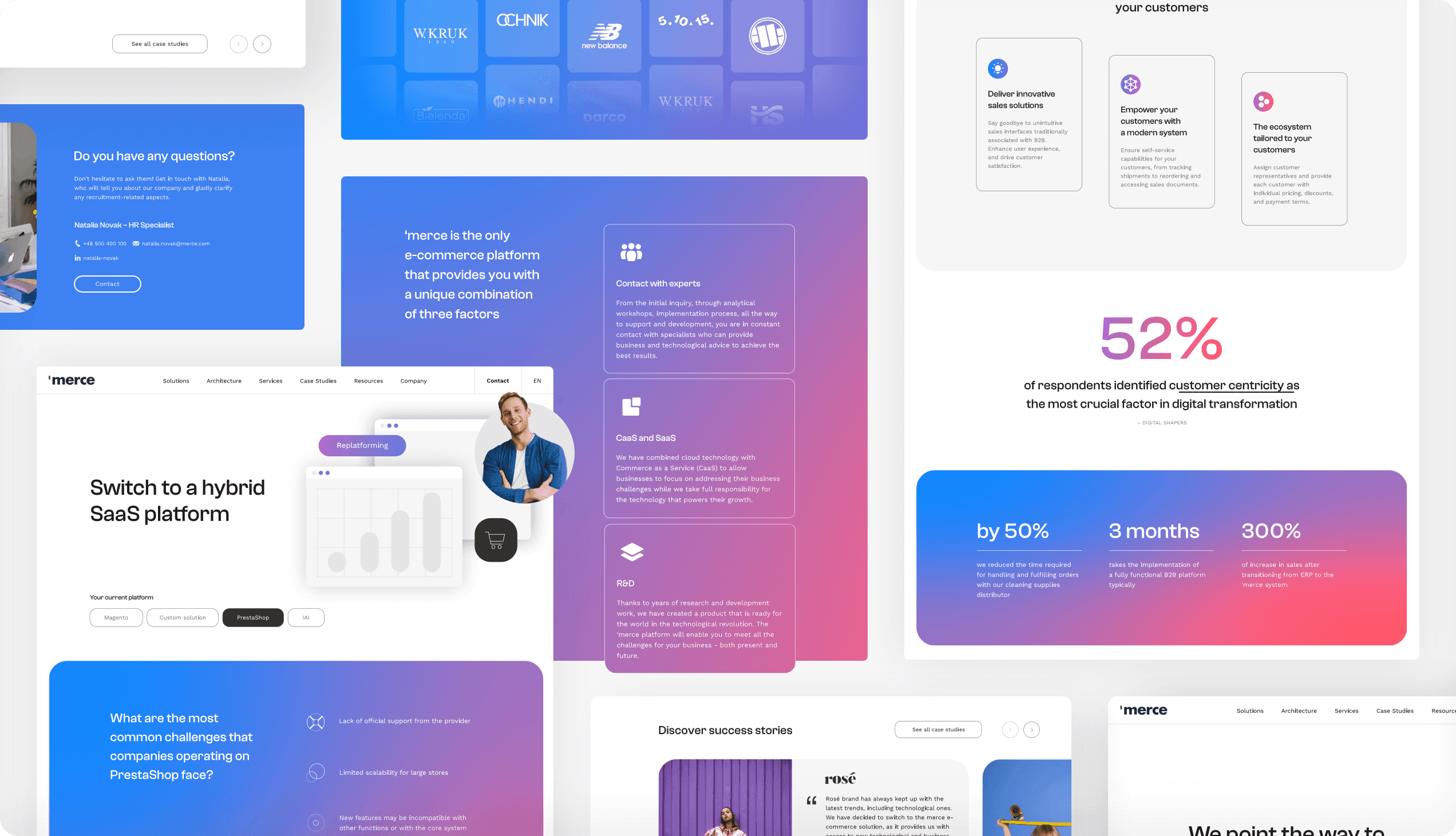 HOMEPAGE
First impressions matter
The website's design focused on a balance of aesthetics and user-friendliness, leaving a positive impression and setting the stage for an enjoyable browsing experience across the entire site. At the top of the page, a section featuring a custom image greeted visitors, representing 'merce's innovative approach to doing business.
The design seamlessly incorporated a section outlining 'merce's streamlined process, offering valuable insights into their methodologies and instilling confidence in their collaborative approach. To put an emphasis on their expertise and proven track record, a selection of success stories was also presented, highlighting the positive impact of 'merce's solutions on various businesses.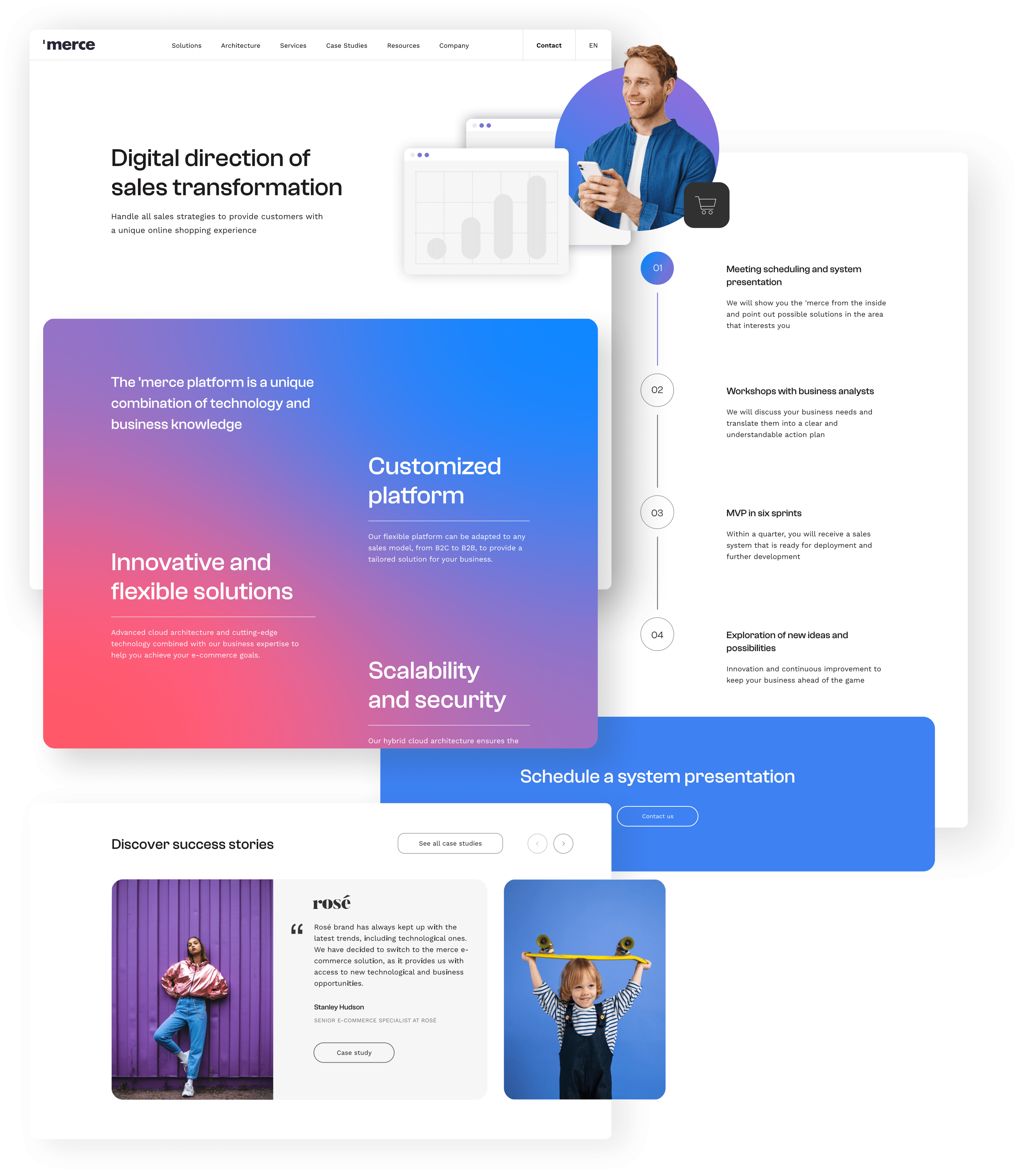 SOLUTIONS
Seamless navigation
We used templates to make the website's design consistent across different subpages. This strategic use of templates not only allows for efficient and cohesive execution, enabling visitors to explore 'merce's various e-commerce solutions with ease, but also makes it easier for developers to implement the design.
SERVICES
Visual appeal and clarity of information
The subpage with services is designed to offer a comprehensive overview of 'merce's diverse e-commerce solutions. The page features a cohesive layout that aligns with 'merce's brand identity, presenting various service offerings in a user-friendly manner.
CHANGELOGS
Keeping users updated
While designing a new website concept for 'merce, the Adchitects team wanted to make sure that the section with changelogs provides its visitors with a clear and organized view of updates and improvements to 'merce's e-commerce solutions.
The page features a structured layout that allows users to easily navigate through the changelogs. Each entry is presented using a simple and cohesive design, making it simple for 'merce's website visitors to understand the latest modifications and enhancements made to the platform.
CASE STUDIES
Demonstrating expertise
It's worth noting that 'merce's website contains a separate section that presents the success stories of their diverse clientele. The page presents each case study with engaging visuals and compelling narratives that highlight the unique challenges faced by 'merce's clients and the benefits of using tailored solutions offered by 'merce.
CAREERS AND ABOUT US
Connecting with the user
The careers page features a user-friendly layout, showcasing open positions and emphasizing the company's commitment to nurturing a vibrant work environment. As for the page about the company itself, it outlines 'merce's journey, values, and industry expertise. It conveys a strong brand identity and fosters a connection with visitors seeking to learn more about the company.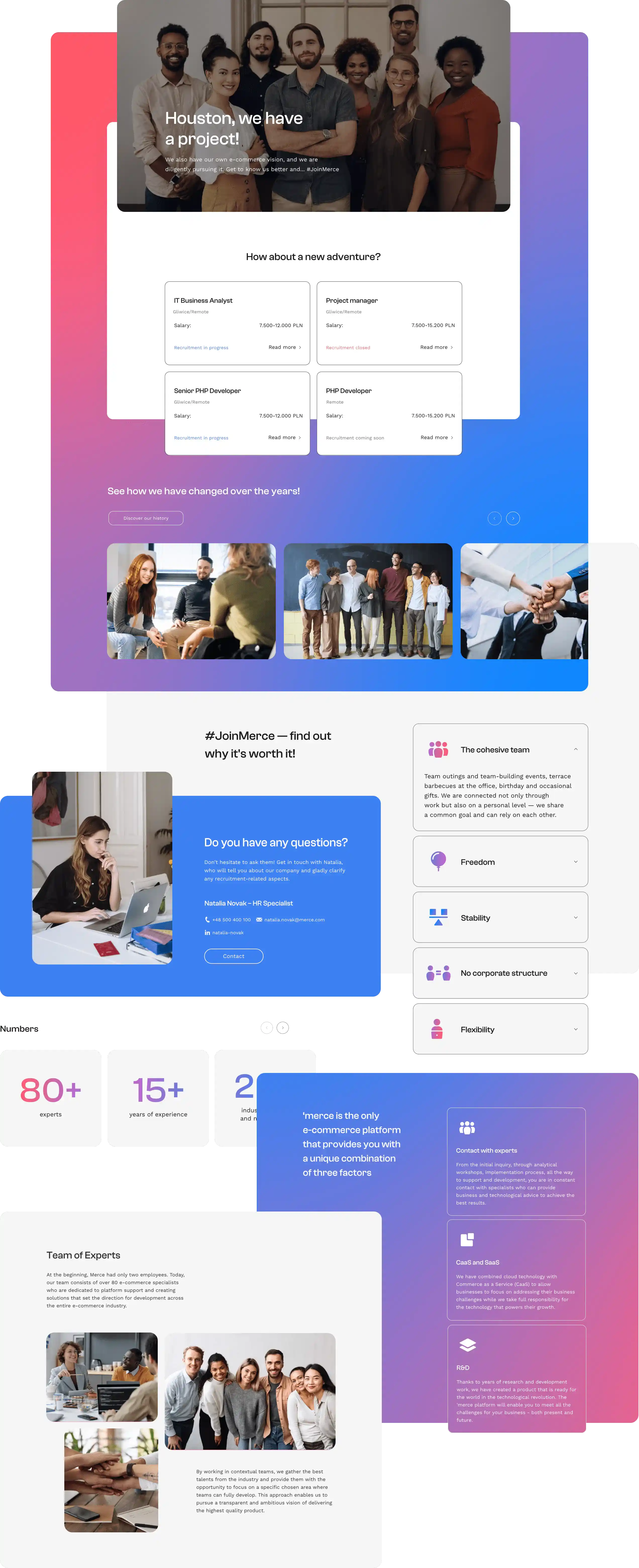 TYPOGRAPHY AND COLORS
Revitalized brand identity
As part of our rebranding efforts, 'merce underwent a revitalizing transformation while retaining the essence of their logo. A fresh typography selection was made, with Clash Grotesk Medium commanding attention for headings, and Work Sans for paragraphs, ensuring a harmonious blend of style and readability.
However, it was the vibrant color palette that truly set the stage for the brand's new identity. Intense shades of bright pink, purple, and blue infused the 'merce brand with energy and creativity. To create an even more captivating visual impact, gradients incorporating these bold colors were thoughtfully integrated across various elements.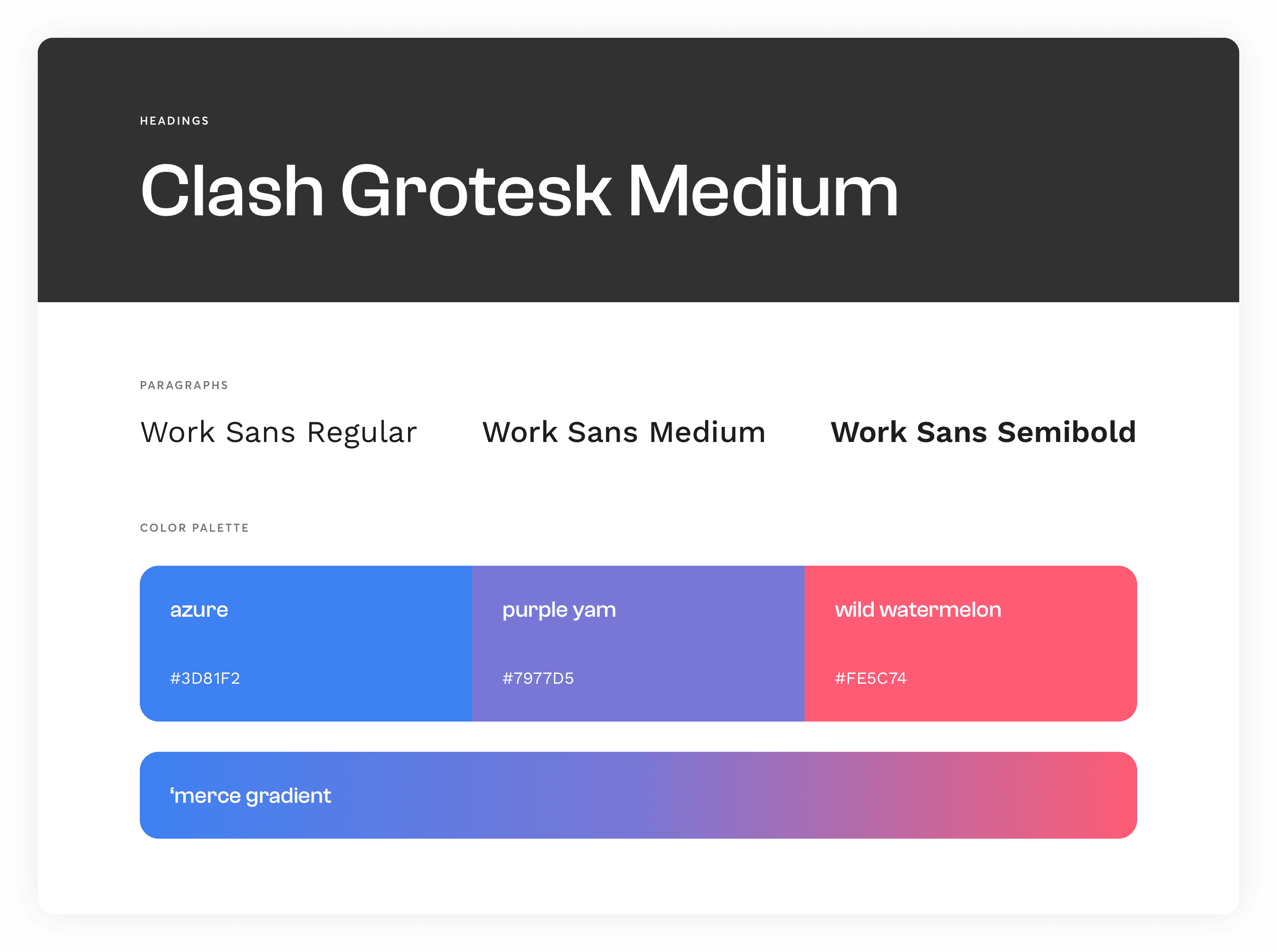 TEAM
At your service
For this design-only project, we assembled a highly proficient team. It consisted of a dedicated project manager and two skilled user interface designers. The project manager played a pivotal role in coordinating the entire undertaking. She ensured seamless collaboration and kept the project on track.
Working in tandem with the project manager, the UI designers brought their creative expertise to the table, crafting captivating visual elements and user-friendly interfaces. In the end, it allowed for efficient decision-making, smooth communication, and a streamlined workflow.
ARE YOU READY?
Let's build your next digital product