A human approach to technical products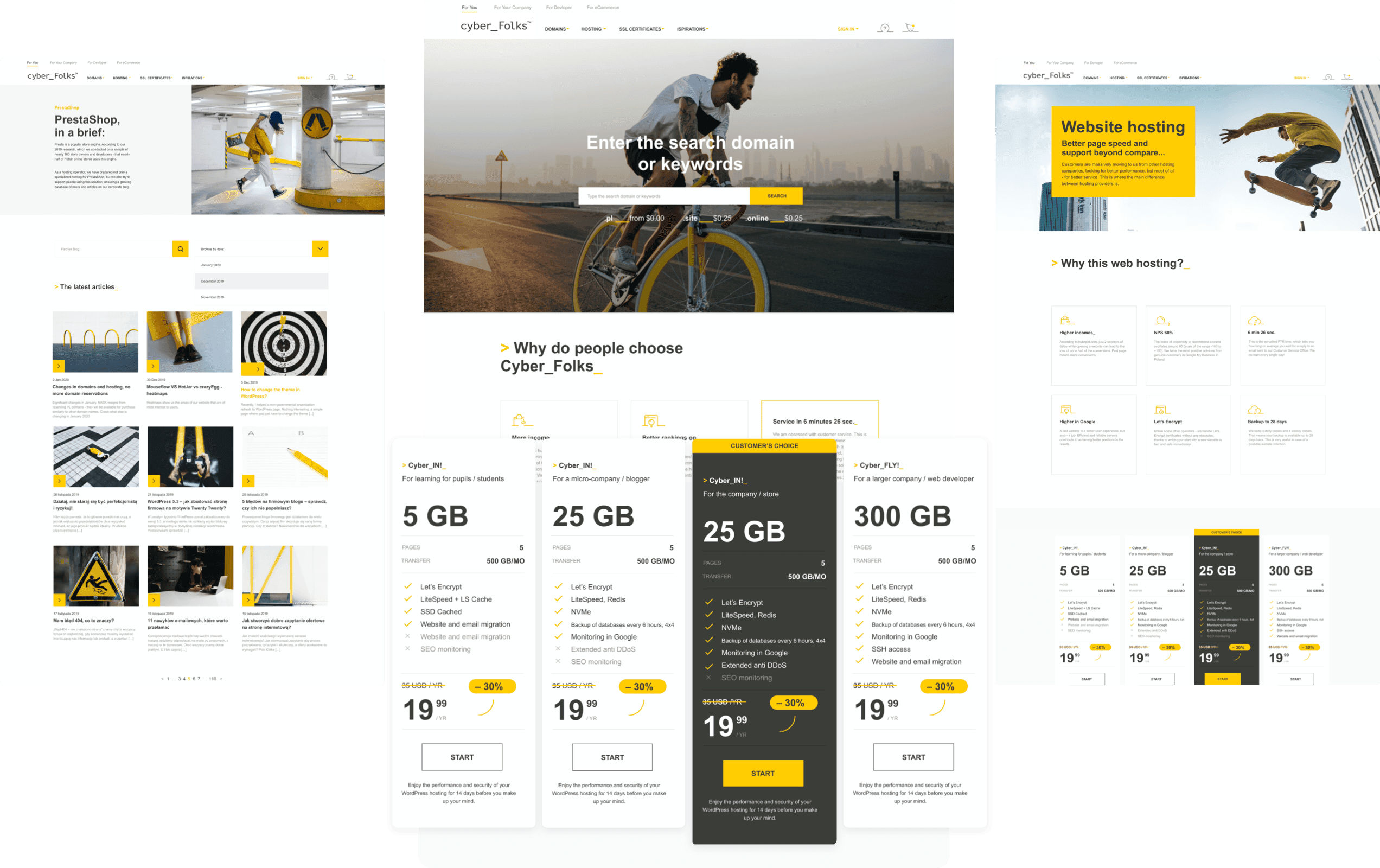 PROBLEM
Cyber Folks were looking to refresh their company image and accent the human-first approach in the way they market their hosting and e-marketing services. It was a call for a comprehensive rebranding and development of a new responsive website.
SOLUTION
We sat down to design and develop a striking, vibrant WordPress responsive website blooming with the color yellow, adding industry-standard website features but with a UX-optimized spin for maximum readability and comfort of use.
VALUE DELIVERED
Cyber Folks now enjoy a modern, fast, fully-optimized, user-friendly, unique, and cheerful responsive WordPress website. Now, their new digital presence highlights the human element behind the company's services, and engages the users, simplifying their experience through fine-tuned UX & UI solutions.
About the brand
Technology, humanized
Cyber Folks presents the technical aspects of hosting services through a people-first approach. After a long journey toward a full rebrand, we were able to take the last step with them.
Scope of work
Placing the cherry on top
We put the finishing touches on a comprehensive rebrand by creating Cyber Folks' website – the embodiment of their new identity. With clear guidelines and the freedom to explore within that framework, we were able to seamlessly merge their vision with our design elements.
Domain search
Minimalism, streamlined
Most hosting websites include a search option on the home screen for enhanced user accessibility. We didn't reinvent the wheel, we just gave it our own spin to fit their updated brand and vibe.
Product lineups
Striking the perfect balance
The goal of a product lineup is to showcase the best options for the majority of users, without omitting alternative choices or overcrowding the webpage. By using various font styles, sizes, and colors, we achieved an informative yet visually appealing layout.
Streamlined checkout
A more enjoyable way to shop
We've chosen not to bombard users with constant cross-selling tactics. Instead, the site presents additional options, which the customer can add to their cart in just one click. They can opt for what they want and ignore what they don't. It's as simple as that.
Webinars
One feature, two purposes
Cyber Folks' webinars are divided into two categories: coming soon and previously presented. The webinar feature had to be consistent across both types, with the same layout but different active elements. We created a hybrid that works for both.
Gutenberg
Always one step ahead
An evolving business can't have a static webpage. With WordPress Gutenberg, we created individual sections that can be rearranged freely, while maintaining the design quality and functionality.
Blog
An invitation to learn more
Most websites have a blog feature. But just because they're common doesn't mean they have to be uninspired. With carefully spaced design elements and visually engaging photos, the layout complements the content effortlessly.
Blog
Supporting the writer
For this blog, we took care of every detail – aside from the words themselves. Thanks to the flexibility of WordPress Gutenberg and our intuitive custom design, the content creator can focus solely on writing, then plug their work into a ready-to-publish template.
Visual Design
Optimized for mobile devices
A good website works for everyone, no matter what device they're on. After designing and creating a website that is as functional as it is beautiful, we implemented cross-platform integration to ensure the experience retains its integrity across all devices.
5.0
After the project, sales increased significantly.
Artur Pajkert
Customer Happiness Architect - Cyber Folks
ARE YOU READY?
Let's build your next digital product