Personalized investment advisory through a user-friendly web app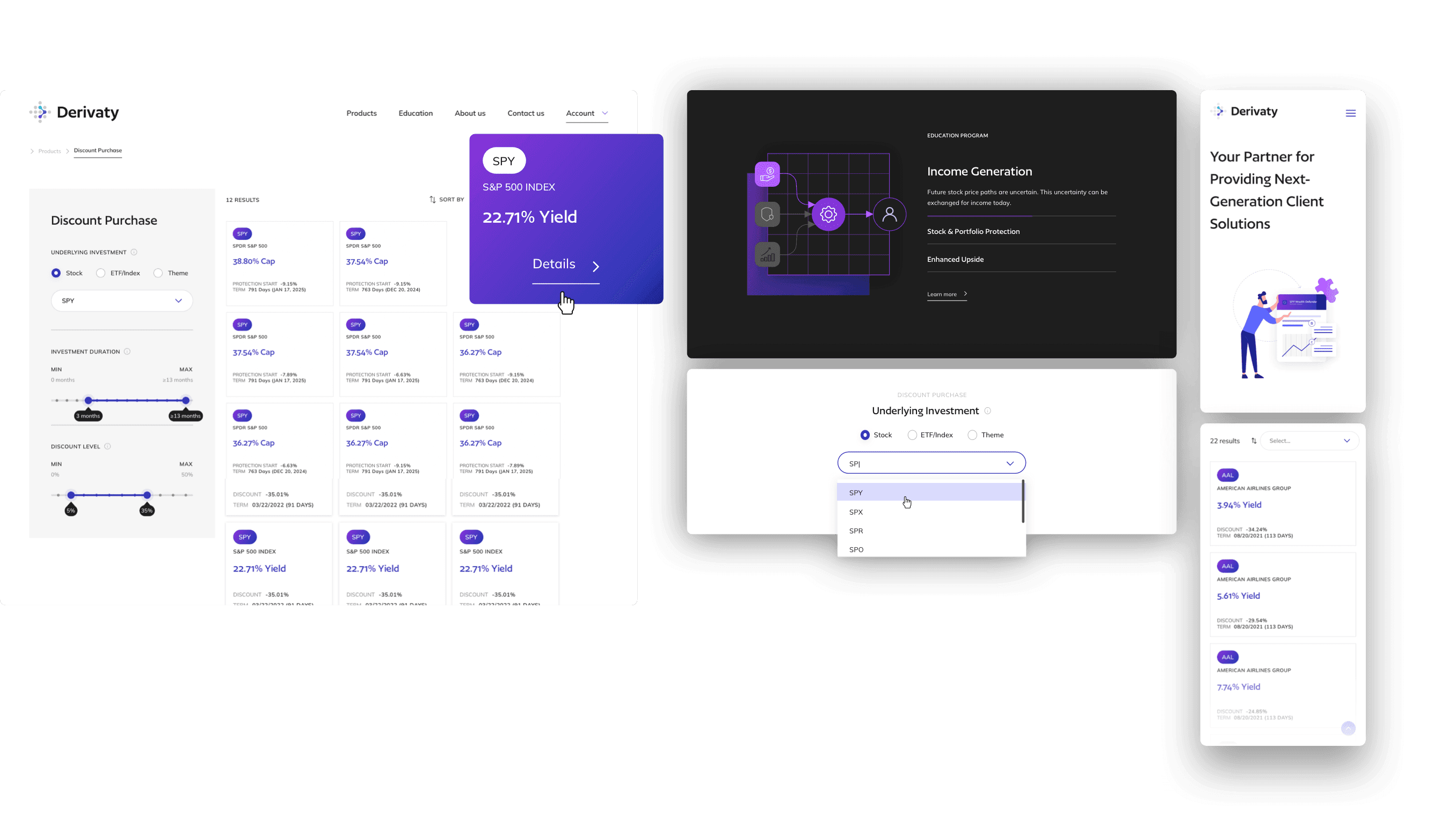 Location
New York, United States
Industry
Fintech
Investment Management
PROBLEM
Derivaty lets their customers create custom-build investment plans, that with the help of their advisors can yield great results. It's an innovative thought in the world of investment, and the company needed the web presence of its idea to appear more convincing.
SOLUTION
We sat down and came up with a minimalist, super-accessible website that holds your hand along the process of creating your own investment plan. We made sure to implement QoL features for advisors too. Additionally, we created an entirely new branding, with top-notch UX/UI.
VALUE DELIVERED
Impeccable interface, great readability, and plenty of features – the new Derivaty website makes the lives of investors and advisors much, much easier. Custom offer builder, printable PDFs with adaptable charts, and fresh, eye-catching branding is what Derivaty exactly needed to gain traction.
ABOUT DERIVATY
Result-oriented finance
Derivaty comes forward with an investment offer like no other company. Their idea is to let their customers create custom-built investment plans, with Derivaty's advisors later suggesting changes focused on achieving the best possible investment results. It's an innovative thought in the world of investment, and the company needed the web presence of its idea to appear more convincing.
TIMELINE
Phasing in
Each of our projects follows an experience-based-yet-flexible plan that we modify to suit every client's needs. Derivaty was no exception.
SCHEDULE
Laying the groundwork
With a plan, all that's left to begin work is to find the perfect schedule. Most of the phases overlap to allow a better exchange of information between different members of the design and development teams.
PRODUCT
Investing made simple
The new website was created in accordance with new design and branding principles. One of the key features is the ability to custom-built your investment plans, a sort of product builder. The whole topic of investing can appear overwhelming, so we made a step-by-step procedure that's friendly even to the biggest financial newbies. Here's how easy it is.
CHARTS
With the click of a button
Data presentation is an integral part of working in finances, and we made sure Derivaty's website would pass this test with flying colors. Once you build your offer, all the graphs, charts, and tables necessary to illustrate your investment idea will be rendered on the spot and on demand. It's a lifesaver when you want to quickly pitch your plan, and are in need of professionally-looking imagery.
KEY POINTS
Make the papers
Another great feature offered by Derivaty's new website is the automatic generation of a custom offer to a professionally-looking, US-Letter-format PDF file, which is ready for printing. The final document presents the offer using neat graphs and tables that adapt to the user's input. The quick and easy creation of printable offers is a great tool for investment advisors.
BRANDING
In with the new
The current look of the investment sector in the US seems fairly strict and conservative, and the client willfully wanted to stand out from the rest of the pack.
For the rebrand of the logo, we've taken the best elements from the old iteration and created a symbol that carries a meaning. We've made a reference to the letter "D" (as in the company's name), and the shape of an arrow pointing forward – a fitting symbol for a company from the finance industry. A lightweight, lively logo and typography were created, which matched well with the complementary key visual.
COLORS & TYPOGRAPHY
Colors at work
This may look like a lot of colors at first, but it all makes sense given the omnipresence of gradients within the design. The brighter tones work well as highlights for text, while the darker colors fit nicely with sliders and buttons.
Two elegant sans serif fonts made it into the project, with both Author and Mulish looking very readable, professional, and versatile.
TEAM
You may call us… the DerivaTEAM
No website can be made without a skilled team of experienced professionals. Don't forget that apart from great designers and developers, you also need project management pros ready to take the wheel!
ARE YOU READY?
Let's build your next digital product