103% conversion increase in a Shopify store with menswear apparel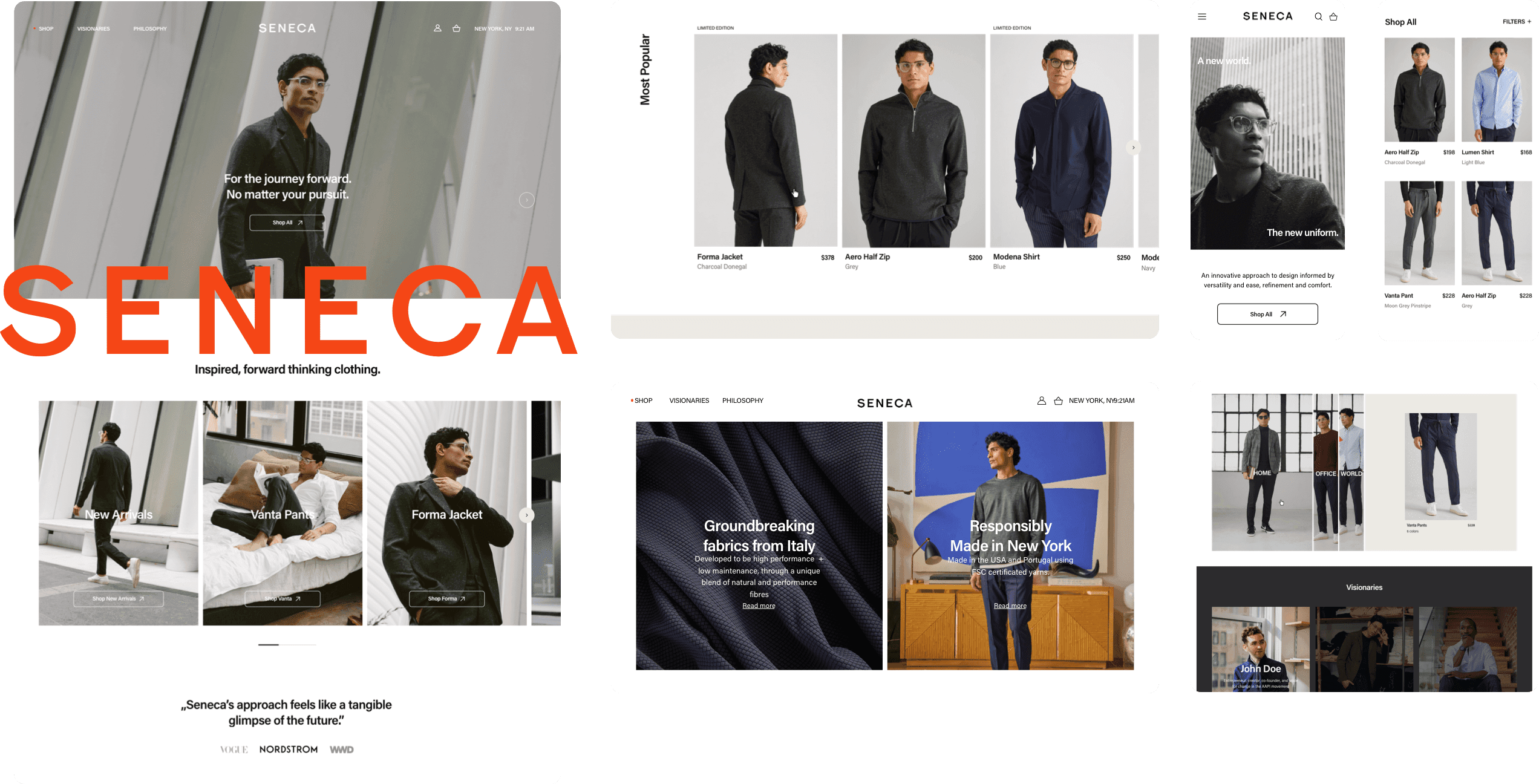 Location
New York, United States
Client
Minebottlescale Inc.
Budget
$10,000 to $49,999
PROBLEM
SENECA approached Adchitects with a need for a comprehensive Shopify e-commerce platform redesign that would drive conversions, increase traffic, and ensure a premium shopping experience, telling the story of a high-end NYC-based apparel label for men.
SOLUTION
SENECA's previous website has been rebuilt with findings from our UX Audit and Cognitive Walkthrough serving as groundwork for changes and new features. There were also numerous enhancements to the way the website works on mobile devices. We've also introduced new layouts for product pages and listings.
VALUE DELIVERED
During the first month, SENECA more than doubled its conversion rates, fulfilling one of the most important goals of the whole project. The final product is a modern, clean-looking, custom e-commerce website that captures the user's attention and encourages them to explore the brand's offer.
ABOUT SENECA
Clothing with an ethos
Seneca's specialty is mature, smart-casual menswear. By using responsibly sourced materials and having a defined set of company values, they indicate their aspirations of delivering sustainable, functional, comfortable, and elegant clothing that lasts longer.
APPROACH
Through the eyes of the user
Our goal was to increase conversions and make an already existing website more accessible and pleasant to use on mobile. Additionally, some of the issues to be addressed were website length, the number of clicks it takes to reach the product page, and brand identity consistency. Our UX analysis included the Cognitive Walkthrough method, during which we approach the website from the perspective of a new user.
SCOPE
Experience first
Unlike many other projects we've done, instead of building a new website, we've overhauled the interface of an already existing page. Our UX Audit & Strategy process incorporated thorough website research. Once we agreed on what works, we sat down to UX- and UI-related work, both on the front- and back-end.
MOBILE
Give 'em space
Mobile user experience was one of the key issues to be addressed, so we suggested simplifying the website's contents by giving the omnipresent photos and captions a little bit of space. With enough breathing room, high-quality model photography became bolder and more emphasized. The icons, buttons, and menus also benefited from more legroom, offering a much more streamlined experience.
PRODUCT DETAIL PAGE
Intuitively clean
Product Detail Page (PDP) received the most impactful overhaul. The task at hand was to direct more of the user's attention to the product itself. We've shortened the page and reduced the number of details, making the photographs a natural centerpiece of the page.
PRODUCT LISTING
Better product browsing
Product Listing was another area, where we streamlined and simplified the experience. We've cleaned up the grid, limited the number of products appearing in a row on mobile devices, and added functional filters and features, such as "Notify me" and "Quick add".
BRANDING
Big city style
Seneca's new website's branding is as smart-casual as their clothing. Here, maturity meets confidence, as cool grey and white elements are complemented by lively orange, with delicate shades of beige completing the sophisticated, modern look. Acumin Pro is a gold standard of typography, and this versatile sans-serif font goes well with the professional ambiance of this brand.
TOP-QUALITY DESIGN
Award-winning work
SENECA was recognized as one of the best web design projects on the market. It won a Gold and a Silver award at the Online Design Awards, as well as a Honorable Mention from the prestigious awwwards.
5.0
We've doubled our conversion in just one month.
Nikh Khosla
CEO – Seneca
ARE YOU READY?
Let's build your next digital product