Unique website with a beautiful presentation of sustainability-oriented ideas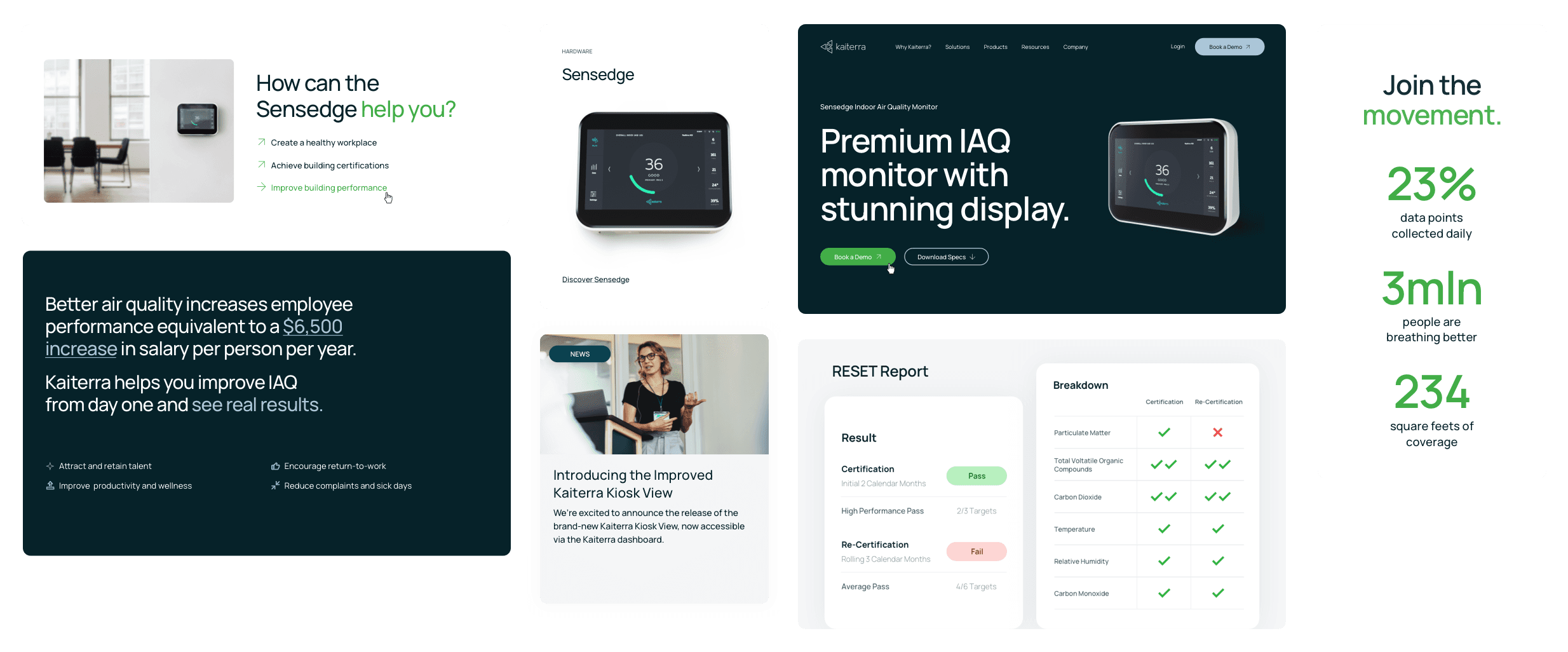 Client
Origins Technology Ltd.
PROBLEM
Kaiterra is an air quality industry leader with some great-looking products, but their old website was lacking in terms of data presentation and provided no feeling of innovation and modernity. They also wanted their website to communicate that the company operates on science-based data and know-how.
SOLUTION
Kaiterra's new, HubSpot-based website is fast, intuitive, and accessible. We made sure it would showcase engaging and interesting things from the perspective of a soon-to-be client. The new website communicates confidence and knowledge based on real data that's backed up with graphs, stats, and other convincing visuals.
VALUE DELIVERED
We helped Kaiterra professionalize its digital presence and communicate its sustainability-oriented ideas better by giving them a mature, responsive website with beautiful data presentation, unique backgrounds, and versatile typography.
project outcome
Our work in numbers
ABOUT KAITERRA
An air of change
Kaiterra's question to their potential clients is simple: is your building healthy? This leading air quality monitoring company operates in 149 countries and regions around the world, wishing to address climate change and improve employee wellness with its innovative devices and integrated software for companies, their employees, and their offices.
DATA & REPORTING
Beautifully communicated
Dealing with air quality in a scientific way, and communicating the findings in a coherent manner makes user accessibility a real challenge. The website's most attention-grabbing aspects are its number-based data presentation, utilizing numerous stats, graphs, and other visual solutions. We've put extra care to make all the elements as consistent and readable as possible. This approach allows the users to easily find and ingest the most important information on the current state of their IAQ (Interior Air Quality).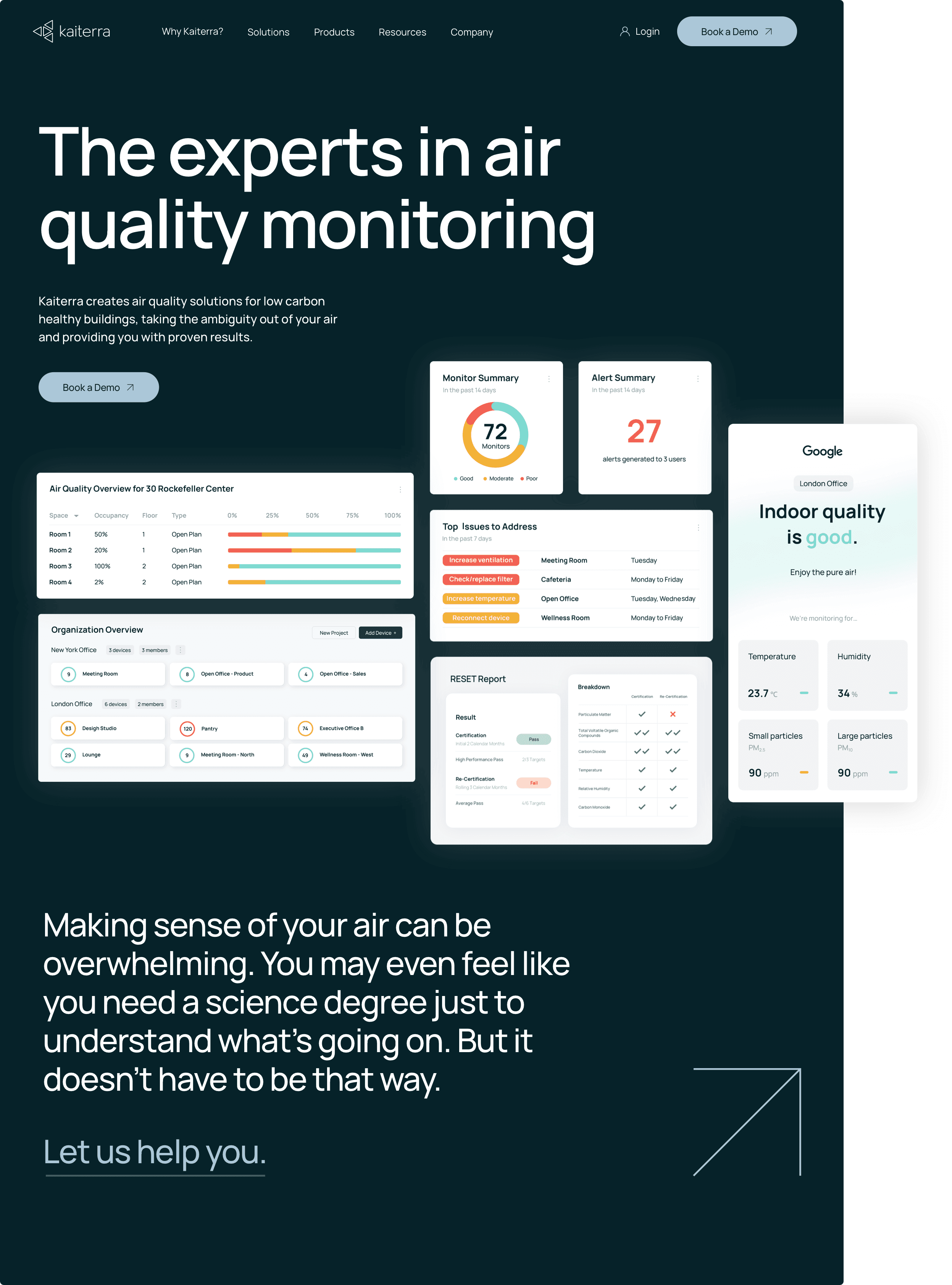 TIMELINE
The way the job's done
Planning out tasks in advance is a staple of our web design work. We do this not only because it increases transparency to our clients, but also because it allows us to save time. In this case, the initial UX design work was crucial in order to capture and implement a consistently Kaiterra-esque way of displaying air quality data. Then, we went on to closely coordinated UI/web dev work and finished the project with a high-quality-ensuring testing phase.
TEAM
We're clean air fans too!
One of adchitects' company values is sustainability, and striving to provide design & code that makes people's lives better is definitely close to our hearts. Our cooperation with Kaiterra felt natural, and every team member did their best to provide a solution as green & life-improving as their products.
CONTENT
A website well done
The website appears lightweight and airy, but it actually packs a lot of content. We've implemented dedicated space for Kaiterra's solutions to be comprehensively described, completing their message with more nuanced data, such as the technical specifications, product features, pricing, etc. One of the new, key functionalities was to allow users to book a demo or schedule a consultation easily – the subtle button can be seen in the top-right corner at all times, but it doesn't get in the way.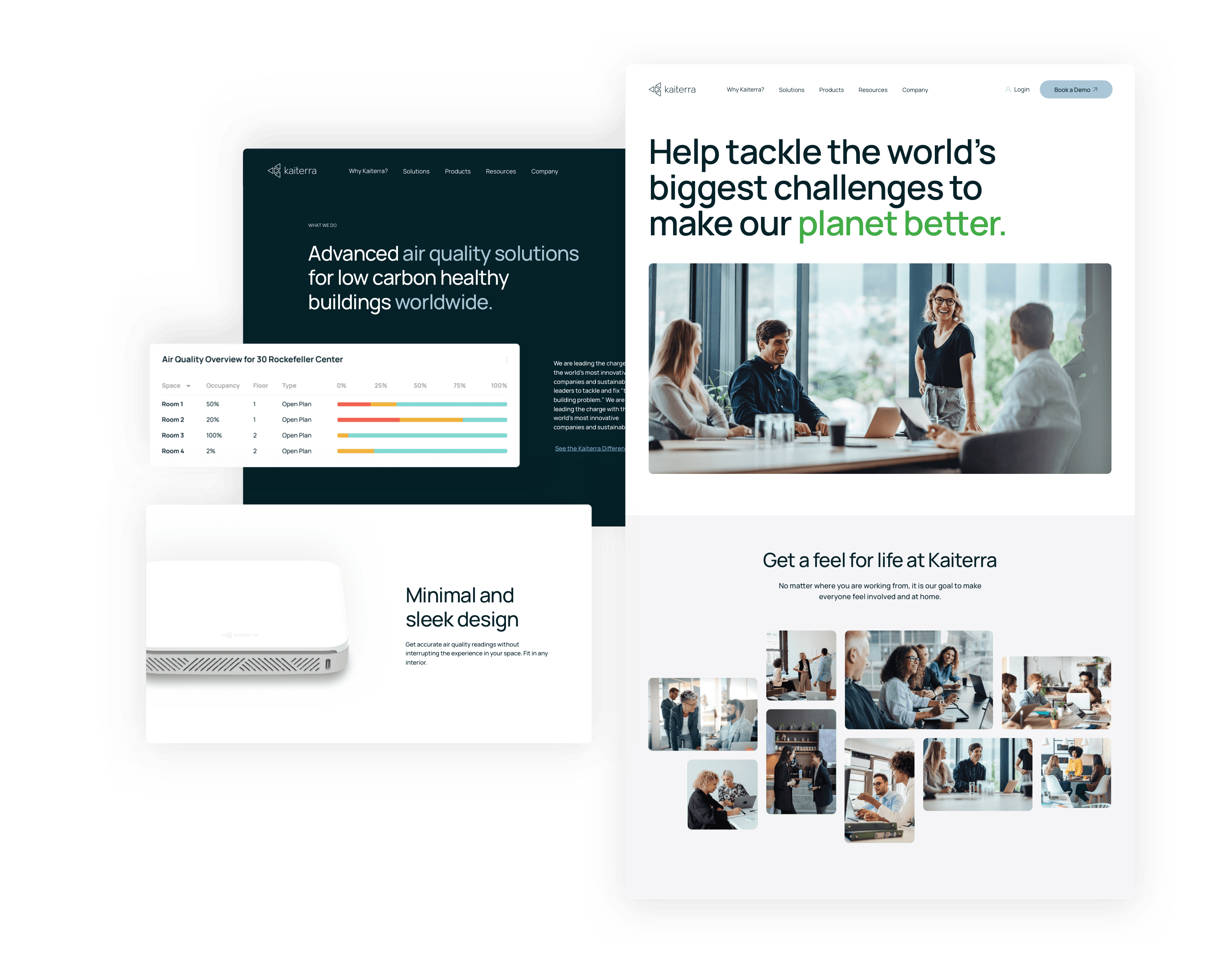 BRANDING
Setting the tone
We kept it cool and dark with a handful of base colors and a few brighter contrasting tones. The result is a pleasantly accessible, readable website that communicates calmness, sustainability, and professionalism.
Another element worth noting were the linear technical drawings that decorate the website and serve as imaginative illustrations.
Oversized typography was one of the main assets of Kaiterra's new branding. We went with the Manrope font family, which features beautiful, geometrical numbers – an invaluable aspect when you want to display various data and information.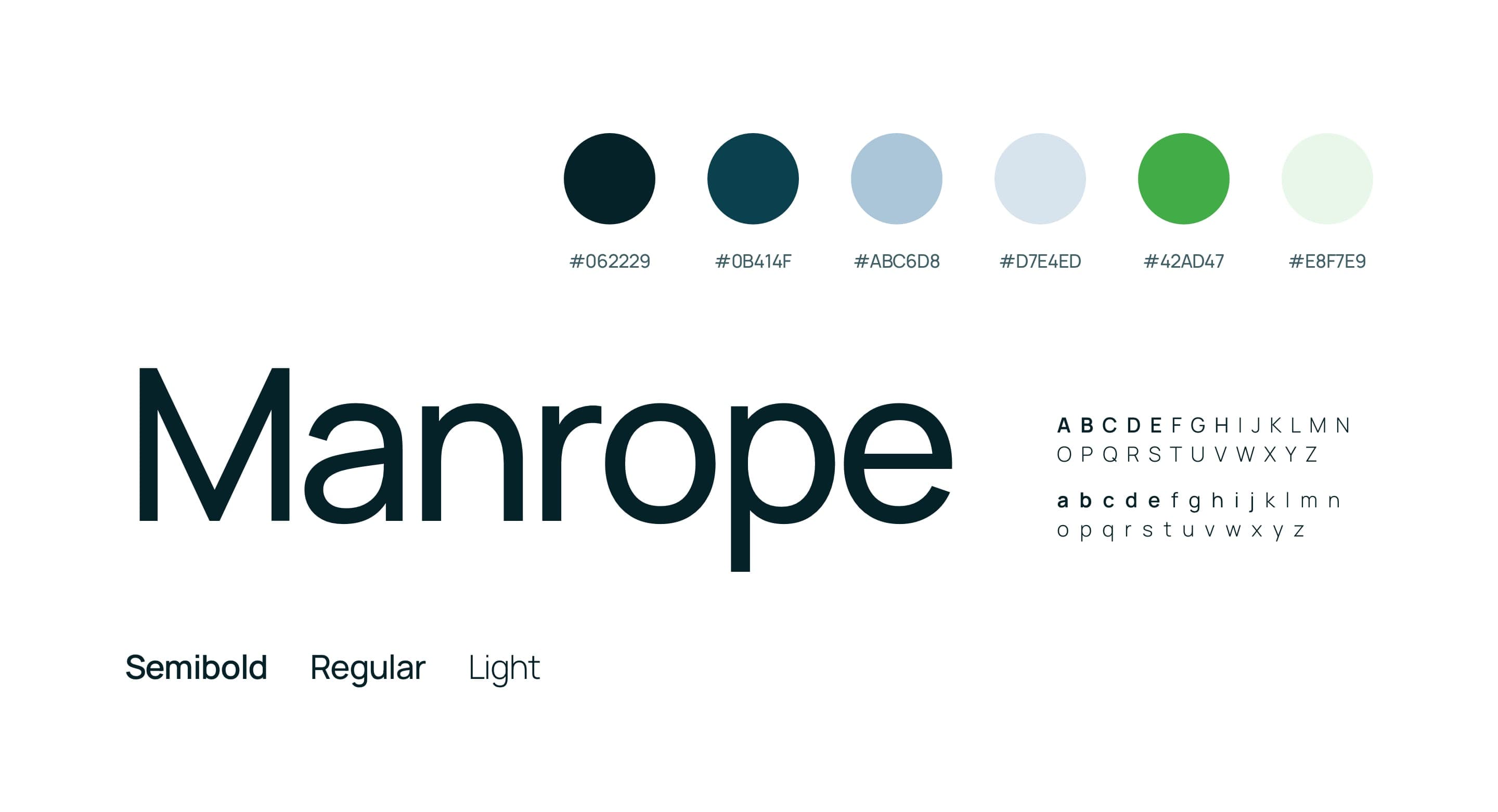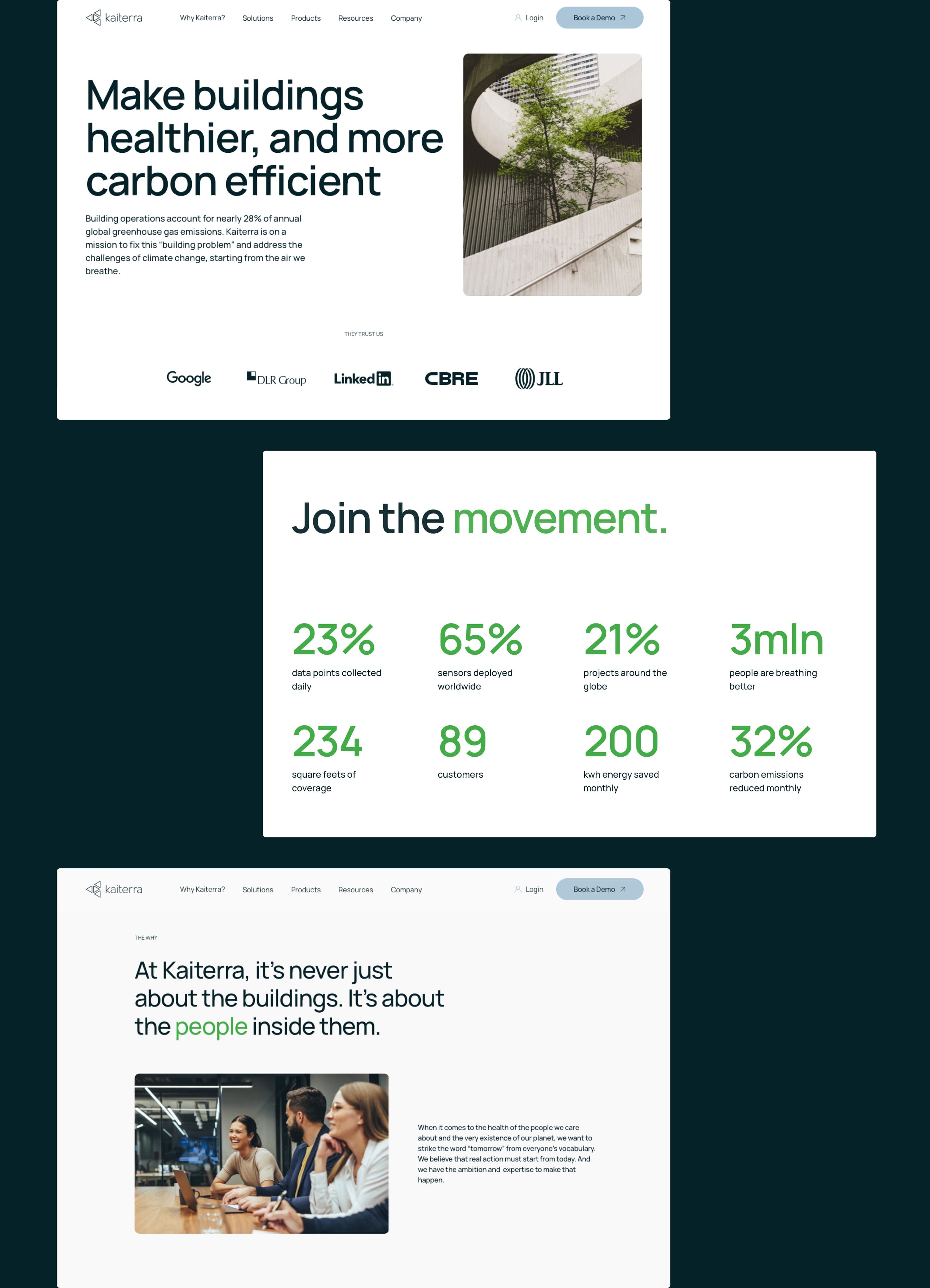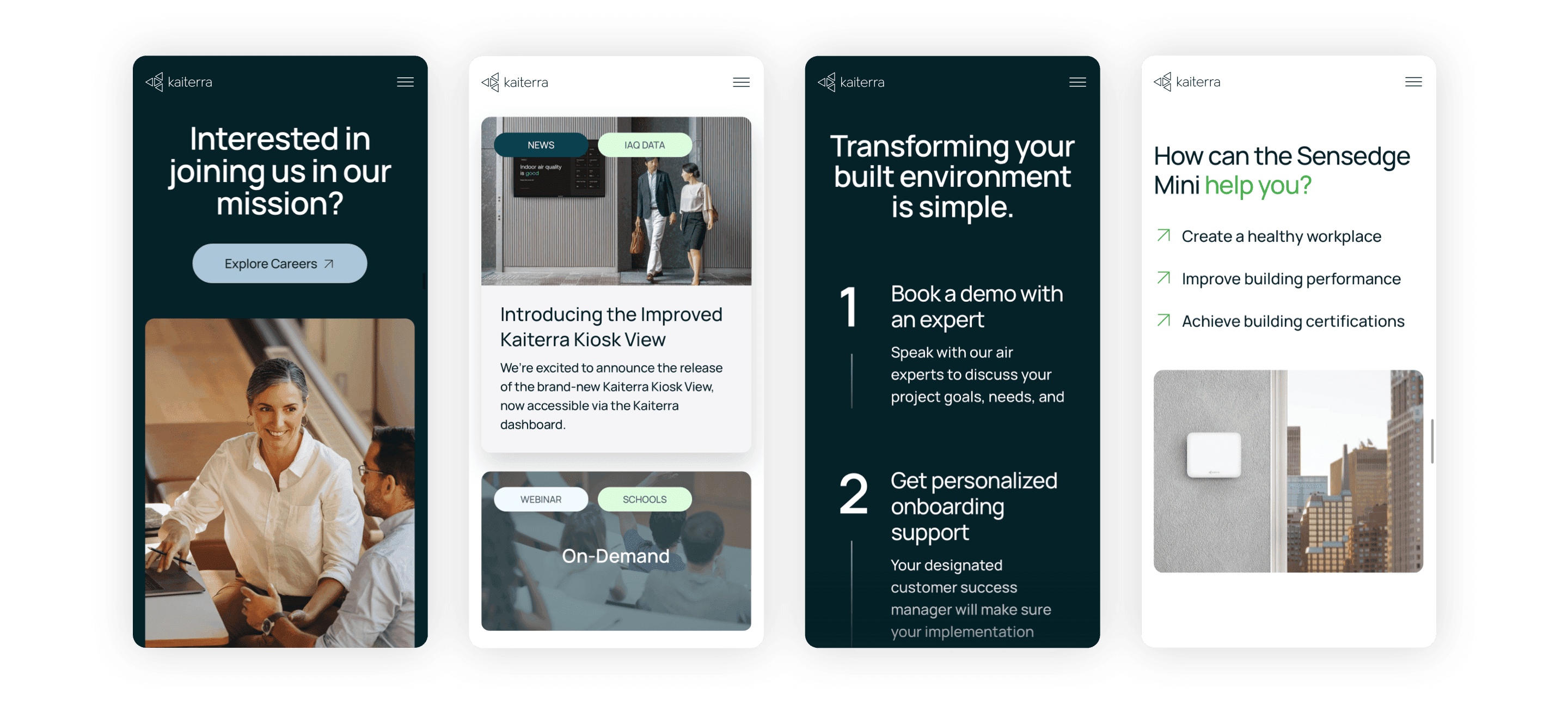 MOBILE
Pure & simple
On mobile devices, it'll be easy to notice Kaiterra's bold branding: deep midnight blue cooperates with white backgrounds to keep the user engaged. Subtly colored buttons, numbers, and icons are clearly visible and nicely accessible. The goal of the mobile website was to offer plenty of product information, but without overwhelming the user. In general, we wanted to create a vibe as clean as fresh air.
ARE YOU READY?
Let's build your next digital product