Website and branding for online stress management coaching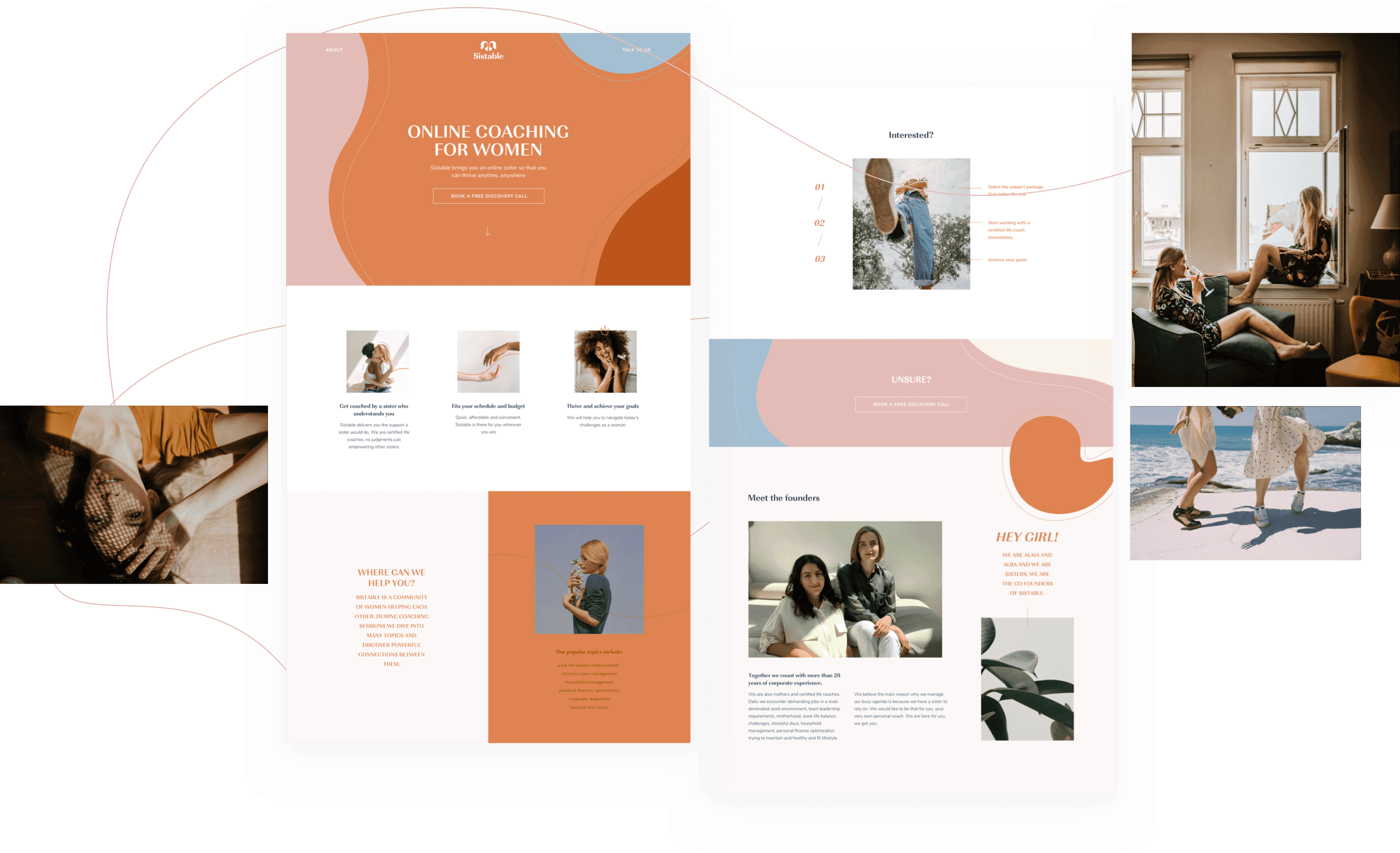 Environment
Headless (ReactJS)
WordPress
Vercel
PROBLEM
Sistable is an online coaching portal for women and a community where sisterhood is not an empty talk. The brand, founded by two sisters, needed a visual identity and a website that would communicate its mission and mindset in an engaging way.
SOLUTION
We used warm colors to give the website a welcoming, supportive feel. We created a new hero section, that paired with a strong CTA, invites visitors to discover the website and learn more. We cleaned up the information hierarchy and made the UI & UX more accessible.
VALUE DELIVERED
We gave Sistable a functional WordPress-based responsive website with a user-friendly interface and integrated scheduling and payment features. Additionally, we created a soothing and welcoming brand identity that captures the company's mission and main focus.
Visual Design
A warm welcome
Landing on Sistable's homepage is like getting a hug from a friend, with a friendly push toward growth. A warm color palette was used here to establish an inviting, supportive vibe. The brand's visual communication is made all the more articulated with a clear value statement and a powerful call to action to guide the user toward a free discovery session.
Visual Design
Personalizing the brand
Meet the people behind the product! Putting real faces to an emerging brand instills trust. Then, to satisfy even the most hesistant user, we added a practical and comprehensive FAQ section that provides all the relevant information about the services offered.
Visual Design
Pricing & booking
No one wants to jump through hoops for a list of price points and services rendered. For Sistable's pricing and booking page, we embraced transparency and access to information. It's easy to understand and even easier to book an appointment. No fine print, no hidden fees, no confusion.
Style
Mobile-friendly
Sistable is a true support system – one you can access any time, from any device. Reach out to Sistable on your mobile device without compromising the functional experience or visual appeal.
Style
Female empowerment
Nothing says sisterhood like a collection of strong, beautiful, independent women. We hand-picked powerful yet feminine photos to capture their brand identity of intimacy, warmth, and community.
Style
Logotype sketches
Creating a brand's visual identity is not a responsibility we take lightly. To truly embody their story and capture their vision, we went through a lengthy ideation phase and development process – as you can see from the drawings below – that lead us to the perfect design.
Style
Final logo
And where did that challenging but rewarding design process lead us? As you can see, the final logo design is a symmetrical emblem of two sisters with the brand name featured clearly below.
Style
Typography
Two sisters, two fonts. By combining two different typefaces – one for the headings and another for the subheadings and body text – we were able to create a well-balanced yet cohesive design. It's readable, effective, and retains the warmth of their brand.
Style
Colors
Can you ever find the perfect palette for a company that is equally feminine and powerful, vulnerable yet strong? We're confident we did! The combination of these warm pastels and deep blue hues says it all.
5.0
Everything was finished on time, and I would say in fairly impressive time.
Alaia Calleja
CO-FOUNDER - SISTABLE (EE)
ARE YOU READY?
Let's build your next digital product